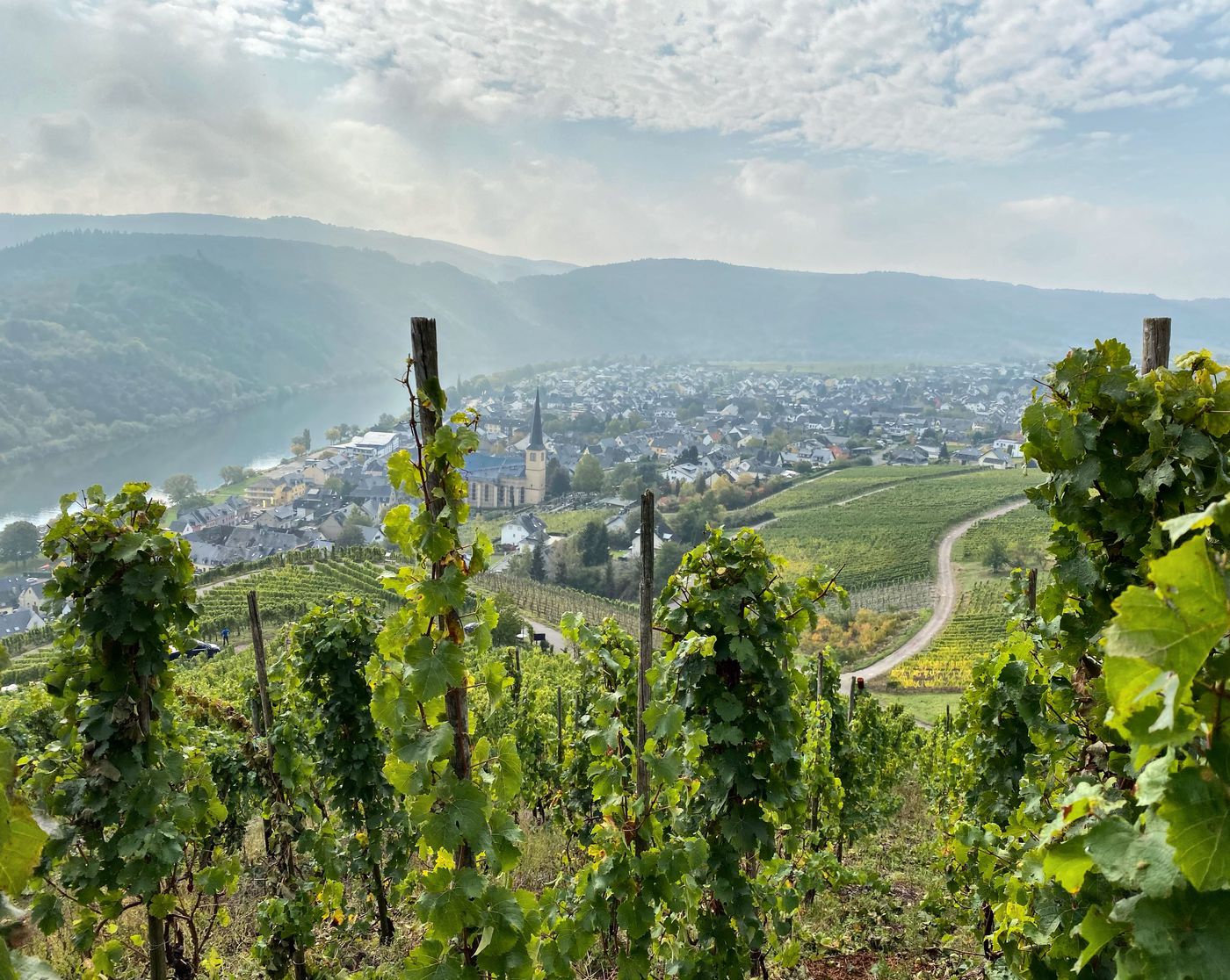 Tour Overview
---
Explore and taste your way along the magical Mosel wine route on a personal grape escape, being chauffeured in comfort while you sip back and let the grape times roll.
Why visit the Mosel?
The Mosel is probably the most famous and oldest wine region of Germany, and is regarded as one of the top 5 most unique and influential wine regions in world. One of the reasons for this is its marvellous views of majestical, very steep ( steepest in Europe) sloped vineyards that grow on hard 500 million year old shiny blue/grey slate along the snake like Mosel river.
You haven't tried Riesling until you try Mosel Riesling!
The Mosel is famous for producing the worlds best Riesling in all its glory from bone dry - to luxury, decadent sweet all held up by fresh, ripe aroma and racy acidy. And while lets be honest sweet wines and Riesling mostly get a squirmy "no thanks" response... there is a reason amongst collectors and Somms around the world why Riesling and the late harvest - bodied "fruiteir styles" are legendary must have in their cellars or on wine lists. Come try iconic Mosel Rieslings and experience the intence aromas, pronounced minerality and crisp acid creating mouth watering complex must try wines.
But there is more...
There is also a very small amount of unique Pinot Noir and Champagne quality sparkling made from local grapes.
Highlights of this tour
WSET experienced & fun wine guide: learning about the unique special Riesling of the Mosel in all its glory from bone dry to more complex late harvest styles. Also taste cracking sparkling wines and Pinot Noir which are lesser known secrets of the region.
Visiting Vineyards to admire spectacular scenery of the steepest, stony slate slopes as far as the eye can see featuring terraced walls and old paths making for a unique scenery.
Full day pick up and returning to Frankfurt based on how the wine flows: Starting around 10am (based on first wine tasting appointment and your pick-up location), you will discover two diverse wineries in the Mosel from traditional estates to new and innovative.
Lunch is included: After all the wine tasting you will definitely need a lunch break which is included. Eat at local restaurants that offer a seasonal menu are normally chosen for lunch, and when the weather is nice, a terrace table with vineyard views of the Mosel is always Wunderbar.
Personal taste: Regarding the wineries you will be visiting, there will not always be a set plan, as some are smaller wineries where availability is limited and appointments are needed. So your guide will be consulting with you and customise the tour to your wine preference, those offering you a more personal experience. But you will visit a mix of wineries from more prestigious, critically acclaimed to smaller and boutique, off the beaten track. All in all, the wineries you will visit are places your guide is buying wine from. All work sustainably incorporating more hand and heart work to translate the special terroir into magnificent wine.
PersonalTastings at 2 (+) wineries included: During a visit to the winery there is a chances to get up close to the vines where you will try the wine from and also a chance to go deep in the cellar (if no slippery work is taking place). Also thanks to a good relationship I share with each winery, you will get to try a decent selection of the portfolio including sparkling wines, older vintages and premium Grand Cru wines. There is usually about 10+ wines per tasting. (+) based on how the wine flows and how deep/long each tasting goes... there is always a chance to try more wines over lunch and when guests are still thirsty and time allows we a 3rd winery is possible!
Wine shipping service: I can also help with shipping your wines.
What's included
---
Two wine tastings (more than 20+ wines)

Transportation in BMW SUV or 8 seater VW van

Visits to two wineries

Fun english speaking guide

Wine Shippng service

Vineyard Visits

Detailed introduction into German wine

Top quality german sparking water or still water

Local lunch of seasonal produce in a local restaurant

Top quality, bottle fermented Sekt (German sparkling)

hangovers

wine shipping costs

car cleaning in case of sickness :0
Meeting point
---
You will be collected and dropped off at your hotel. Get in touch for recommendations in Frankfurt or an even better option is to stay in the wine capital of Germany, Mainz
Cancellation Policy
---
As private tour no refunds within 36 hours of the day of the booking