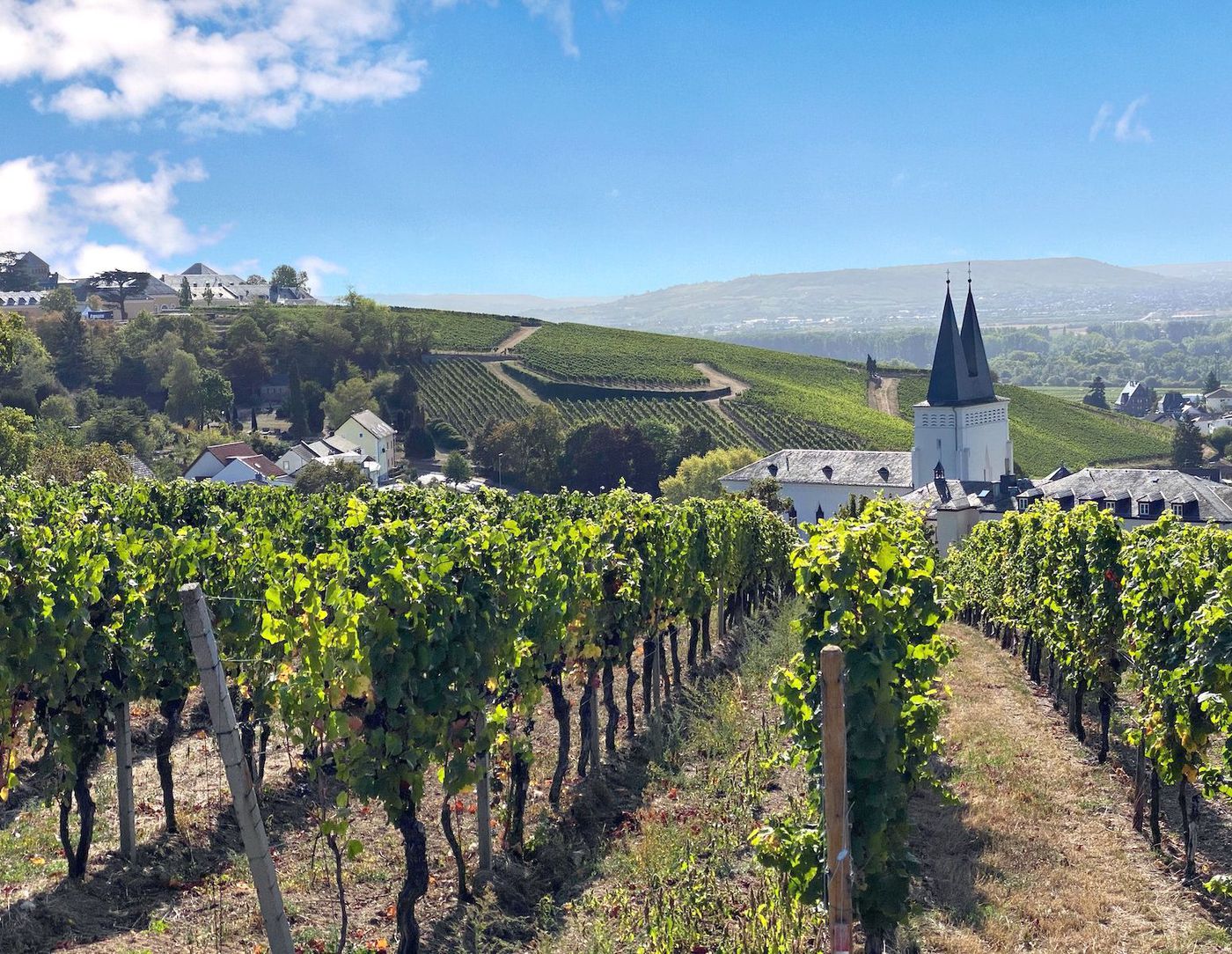 Tour Overview
---
Discover the "Burgundy of Germany", only one hour from the bustling city of Frankfurt, a warmer micro climate where castles sit majestically on cliff tops and vineyards roll steeply into the Rhine.
The Rheinhessen & Rhine Valley is an area that is rich with historical influences from Roman times to Napoleon's rule. As the name states it's literally a land of rolling hills where hidden in the valleys you will find baroque old sandstone, half timbered walled villages hiding quaint wine taverns and wineries. It's a region that is getting attention for some of the most interesting and exciting wines from Germany especially in regards to sparkling wines and Burgundy varieties that will knock the socks off even a Frenchman.
After a 45 min drive from Frankfurt you are already entering the rolling vineyards of Rheinhessen and the Rhine Valley. Rheinhessen is Germany's largest and most diverse wine region with vineyard views as far as the eye can see. It's also home to some very steep vineyard sites confined to the Rhine Valley and beyond from Bingen and also the unique volcanic slopes south of Mainz along the Rhein Terrasse of Nierstein.
The diversity of climates and soils types means that beyond some very exciting Riesling you can find many other grape varieties like Chardonnay, Pinot Gris, Sauvignon Blanc and cracking Pinot Noir. Many of its famed wine villages celebrate the chalk, coral and limestone soils left behind from compact ancient reefs adding minerality and sometimes more balanced creamy acidity in wines.
Rheinhessen is having somewhat of a revolution from its farming, bulk wine past. Many younger winemakers are challenging traditions and focusing on different grape varieties especially from Burgundy origins like Pinot Gris, Pinot Noir and Chardonnay but with more acidity. There is also a focus on more natural, organic wine making and with warmer weather boulder red wines. This new found energy is leading the way to make high quality Rieslings that can compete with their famed neighbouring regions sometimes at more accessible prices.
Rheinhessen Riesling are often characterised as being softer, more round, fruit-forward, medium-bodied with a more approachable mild acidity. They are pleasant, easy-to-drink wines. On ancient Rheinhessen coral limestone some of Germany's best Riesling is produced where Riesling glows golden yellow in the glass. The delicate bouquet smells of fresh, ripe stone fruit. More distinctive than the fruit, however, are the mineral, salty notes of the wine and the dense, juicy harmonious acidity.
About the wineries you will be visiting, there will not always be a set plan, as some are smaller wineries where availability is limited and appointments are needed. So your guide will be consulting with you and customise the tour to your wine preference, those offering you a more personal experience. But you will visit a mix of wineries from more prestigious, critically acclaimed to smaller and boutique, off the beaten track. All in all, the wineries you will visit are places your guide is buying wine from. All work sustainably incorporating more hand and heart work to translate the special terroir into magnificent wine.
During the visits to the wineries there is a chance to get up close to the vines where you will try the wine from and also a chance to go deep in the cellar (if no slippery work is taking place). Also thanks to a good relationship your guide is sharing with each winery, you will get to try a decent selection of the portfolio including sparkling wines, older vintages and premium Grand Cru wines. There is usually about 7+ wines per tasting.
After 2 wine stops you will need to refuel so you will stop for lunch at a local tavern to try seasonal Rheinhessen treats. Rhienhessen is known to have some of Germany best cuisines because besides wine a lot of great produce is farmed in the fertile soils found here.
What's included
---
Hotel pick-up and drop-off

Fun english speaking guide

Top quality german sparkling water or still water

Three wine tastings (more than 20+ wines)

Delicious German lunch

Wine shipping service

Detailed introduction into German wine

Top quality, bottle fermented Sekt (German sparkling) from the region

Transportation in BMW SUV or 7 seater mini van

Fresh baked pretzel sticks or baked good from a very good local baker
Meeting point
---
Frankfurt; Wiesbaden; Mainz
Cancellation Policy
---
Group cancellations, partial cancellations, individual cancellations.
Up to 10 days ahead of the cancelled service, a 10% fee applies and will be deducted from the refunded booking fee.
Up to 5 working days ahead of the cancelled service, a 50% fee applies and will be deducted from the refunded booking fee.
Up to 2 working days ahead of the cancelled service no refund will be made.
The organizer reserves the right to cancel a service any time. Booking fees for services cancelled by the organizer will be refunded in full. In case of a cancellation due to force majeure, the organizer retains a fee of 10%.