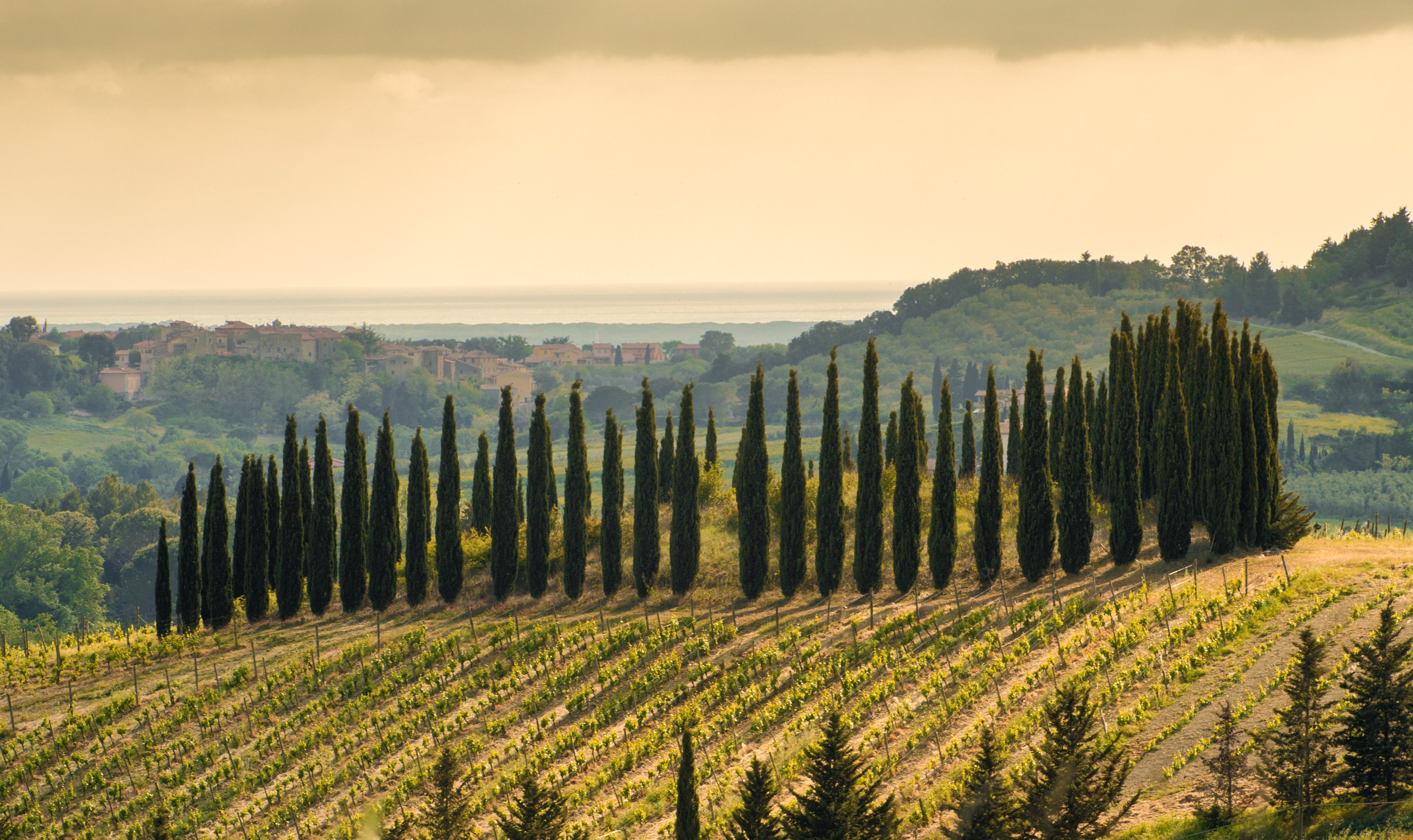 Bolgheri

wine tasting tours and winery visits
Why Visit Bolgheri?
Bolgheri is a relatively young Tuscan DOC, having only started producing wine commercially in the 1970's. However it has already made a significant impression on the international wine scene, ruffling traditional Tuscan feathers, and the name Bolgheri is now synonymous with exceptional fine wine. Book a wine tasting tour to Bolgheri, or visit the region on a wine tasting holiday to Tuscany, and experience 'Super Tuscan' wines for yourself.

WINE TASTING TOURS IN BOLGHERI
Once referred to as Super Tuscans, Bolgheri wines are predominantly intense reds, with the ability to age, created from a blend of Bordeaux grape varietals. Quality levels are exceptional, with many estates already producing award-winning, collectible wines. As vineyards typically improve with age, future expectations are high for Bolgheri. Learn how this Maremma coastal region transformed from a malarial swampland to a prestigious wine producer, and the pioneering Sassicaia wine that started it all, on a guided wine tasting tour.

MORE REASONS TO VISIT BOLGHERI
The region is a typically Tuscan landscape of vineyards, olive groves and wooded hillsides dotted with medieval hamlets. Drive along the famous 'Viale dei Cipressi', a straight 5km road lined with majestic cypress trees, to reach the charming medieval village of Bolgheri, with its fairytale castle. Take a leisurely stroll through the historic centre, pausing at the artisan workshops and enotecas, before enjoying a simple lunch in one of the osterias.
Best Known Grapes
Bolgheri is known for its deeply coloured, age-worthy, red wines that are based on Bordeaux reds. As you would expect therefore, Cabernet Sauvignon, Merlot and Cabernet Franc are the most popular and successful grape varieties grown in the region. Other varietals grown and sometimes used in Bolgheri blends are Sangiovese, Syrah and Petit Verdot. The white grape most often used in Bolgheri Bianco is Vermentino. This is sometimes blended with Sauvignon Blanc or Trebbiano Toscano.
Read more »
Best time to visit
Wine holidays in Bolgheri and the wider region of Tuscany can be enjoyed throughout the year. The area enjoys fabulous coastal weather due to its proximity to the sea. The spring and autumn months are the perfect time of year to visit, when the landscape is at its most picturesque and the weather is favourable. The autumn months of September and October are particularly good months to visit to witness the region's grape harvest in full swing.
Read more »
How long to stay
It's easy to arrange a full day wine tasting tour of the Bolgheri wine region departing from nearby Pisa or the port of Livorno. Tours can also be arranged from Florence and Siena. These tours are an excellent introduction to the region and the excellent wines produced here. However, for wine lovers looking for a more indepth Tuscany wine experience we would recommend a leisurely 3 - 5 day itinerary of self drive or organised tours offering a full immersion into the contrasting wine growing regions of Tuscany.
Read more »
How to get there
The closest cities to the Bolgheri wine region are Pisa and the port of Livorno which are both around 1 hour drive away. Wine tasting tours can be arranged from both cities. Siena and Florence are slightly further away (around 2 hours drive). If you plan to arrive in the region by plane, the closest airport is Galileo Galilei International Airport in Pisa, which is just 1km from the centre of Pisa. The city centre is easy to reach by taxi or train. Trains operate frequently from the airport train station, which is conveniently located outside the arrivals hall at Pisa airport. The journey time is just 5 minutes. Alternatively, fly into Florence Airport (Amerigo Vespucci), which is located on the outskirts of Florence. Florence city centre is easy to reach within 20 minutes via taxi and shuttle bus. Florence airport is approx. 1.5 hours drive from Pisa city centre.
Read more »