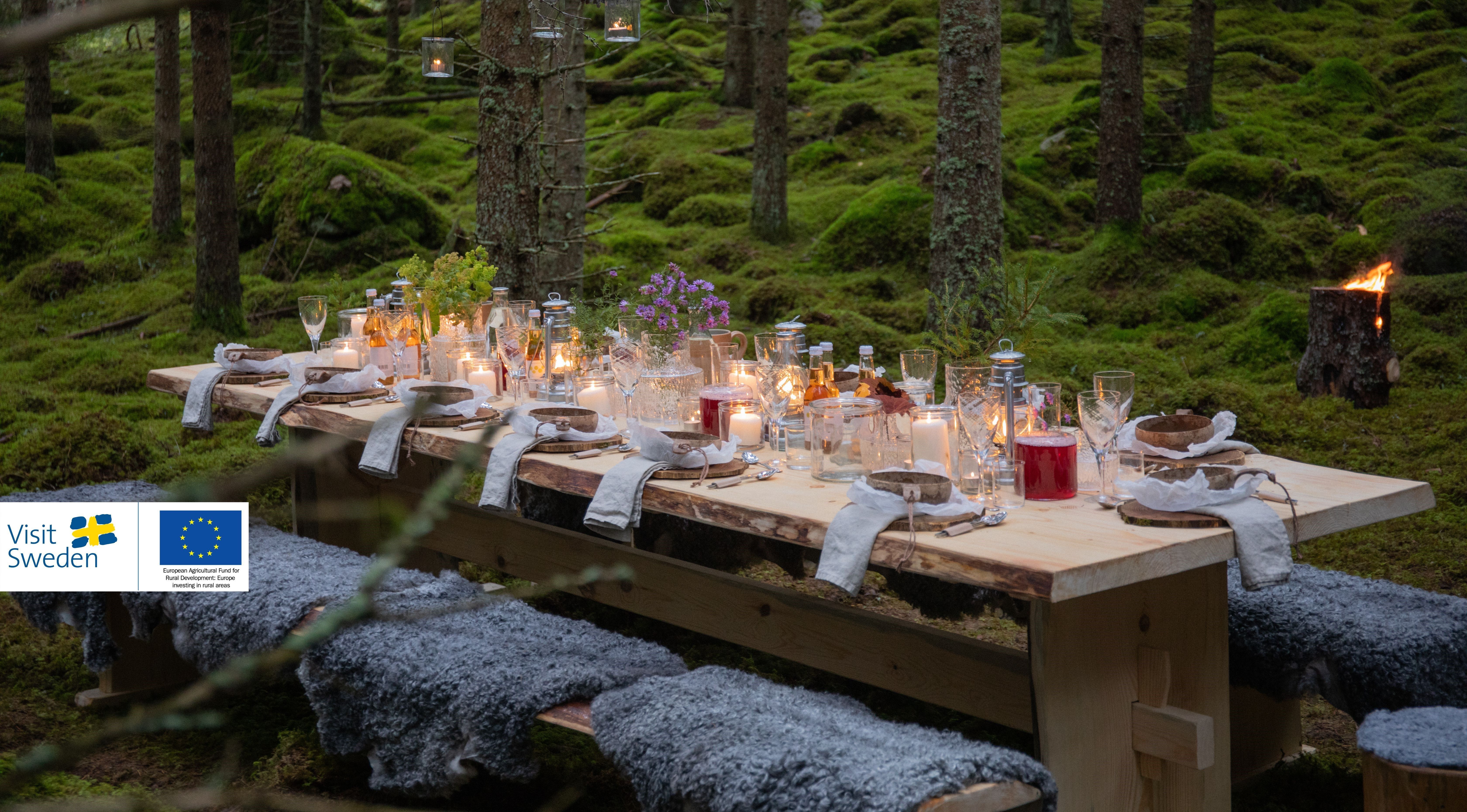 Sweden

wine tasting tours and winery visits
Why Visit Sweden?
If you're looking for a unique food and wine tasting holiday, then head to Sweden. When you think of Sweden, its' breath-taking natural landscapes, magical Northern Lights, and progressive attitude are what springs to mind. Sweden also boasts a distinctive foodie culture that focuses on the abundance of local produce and a surprising, burgeoning winemaking industry.
WINE TASTING HOLIDAYS IN SWEDEN
When it comes to alcoholic drinks, Sweden is synonymous with vodka and schnapps. It's not a country that you associate with wine as the weather conditions are not conducive to winemaking. However, in recent years a small group of talented and tenacious wine makers in the south have been producing very interesting wines and working hard to place Sweden on the map as a wine-producing nation. Visit Sweden on a wine tasting holiday and discover this exciting, up-and-coming wine region for yourself.

FOOD TASTING EXPERIENCES IN SWEDEN
Sweden's food culture centres on locally sourced produce. The country's natural pantry produces Arctic berries, wild mushrooms, and edible plants; herring, salmon, and sought-after crayfish to name a few. It's no surprise that the farm-to-table movement is extremely popular here. One foodie experience that embraces this concept is The Edible Country. A collaboration between Visit Sweden and four Michelin starred chefs, the Edible Country combines foraged ingredients with breath-taking natural scenery to create unforgettable outdoor cooking and al fresco dining experiences. Aside from a love of natural, organic food, the Swedes love coffee and fika - enjoying a coffee and sugary treat with friends - is a massive part of Swedish culture that we recommend you experience.

MORE REASONS TO VISIT SWEDEN
Sweden is a nature lover's paradise. It's a country of vast lakes and impressive mountain ranges, deep forests and unspoilt islands offering an abundance of outdoor activities. When you're not exploring the great outdoors, discover the country's 15 UNESCO World Heritage sites, experience the bustling cosmopolitan cities and sample beer at one of the craft breweries that are popping up all over the country.
Best Known Grapes
Winemakers in Sweden are still searching for a grape variety that perfectly suits the specific Nordic terroir, where the short growing season produces fruit with high acidity. In the meantime, the hybrid varieties of Solaris (white wines) and Rondo (red wines) are the two key grapes currently used to make Swedish wine.
Read more »
Best time to visit
The best time of year to visit Sweden is generally between May and September, when you can expect warmer temperatures and long, sunny days. Although, if you're visiting Sweden to participate in snow-based activities then the winter months are the best time to go. Sweden's northerly position has a definite summer advantage in that temperatures are rarely extreme and regularly hit +20°C. Midsummer in Sweden is a national holiday, when everyone gathers with friends and family for a few days of eating and drinking, dancing, and singing! It's a great time to be in Sweden. And if you plan to visit Sweden in August, be sure to attend a crayfish party – it's an important tradition and plenty of fun. During winter, in central and southern regions average temperatures hover around 0°C. The further north you travel, the more severe the winters and above the Arctic Circle temperatures can drop to -30°C. If you visit during the colder months (September – March), you might catch the magical Northern Lights in northern Sweden.
Read more »
How long to stay
Any visit to Sweden should include a stop in Stockholm. There is plenty to do in this sophisticated city and a long weekend break will give you a teasing taster of Sweden's enviable lifestyle and culture. We guarantee you will want to stay longer! If you can spare one week you will have time to island hop around the achingly beautiful Stockholm Archipelago, enjoy the great outdoors, and delve deeper in Sweden's history and culture. In two weeks, you will have the opportunity to travel further, taking in the lush landscapes, exploring World Heritage Sites and sampling more of the distinctive cuisine. Gothenburg, Sweden's vibrant second city, is well worth including in a two-week trip, for the Michelin starred dining and craft beer scene alone! In three weeks, you could journey to the ends of the country – to the far Arctic north or the southern wine-producing province of Skane.
Read more »
How to get there
If you are arriving into Sweden by plane there are numerous airports to choose from. There are four airports within easy access of Stockholm - Arlanda being the main airport. In addition there is an international airport at Gothenburg and Copenhagen international airport is the gateway for Malmö and the South. Additional seasonal winter routes are also available into Luleå in Swedish Lapland and Sälen in Dalarna (Mid Sweden). If you're travelling from the UK, you could take the Eurostar, connecting through The Netherlands, Germany, Denmark and into Sweden for a beautiful 48hour journey. Sweden's domestic rail system is among the most environmentally friendly in the world. An efficient and extensive rail network can transport you from the temperate south to the wilds of the Arctic Circle in Swedish Lapland.
Read more »
Get in touch