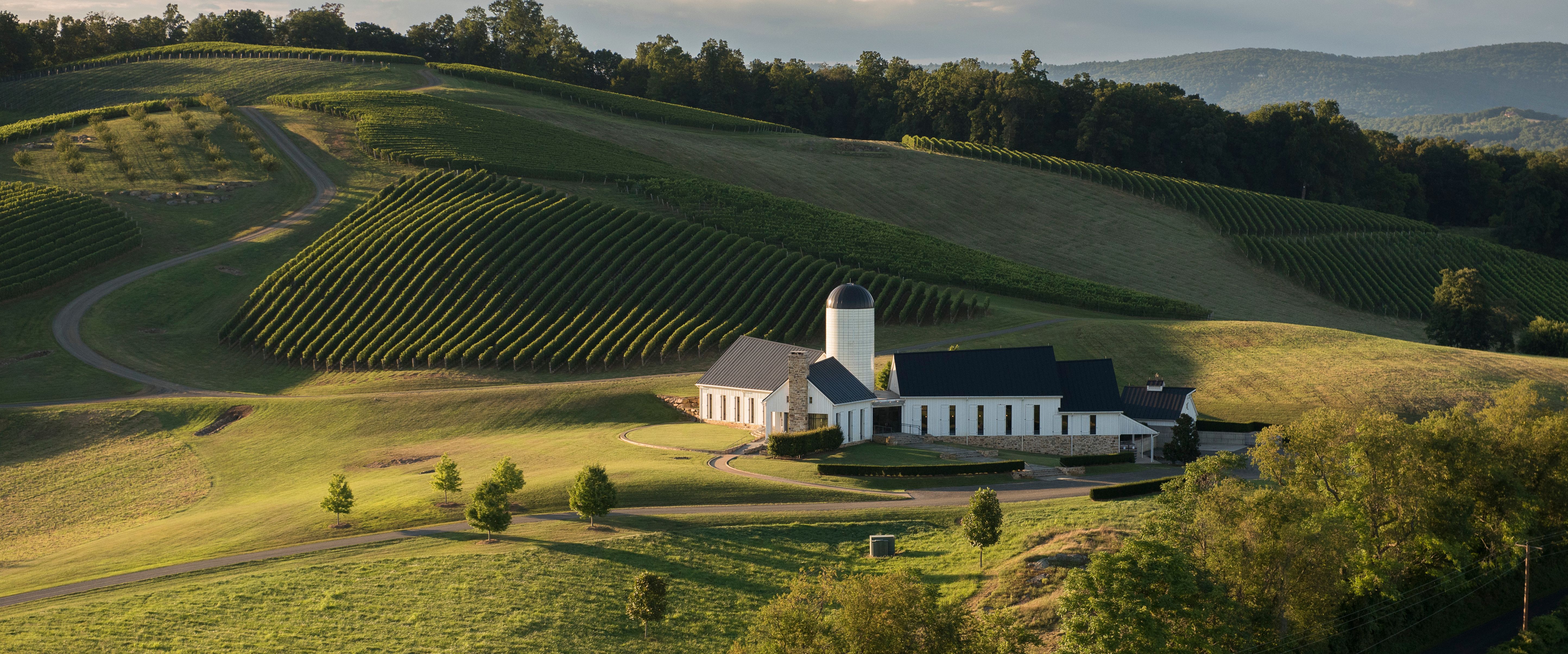 Virginia

wine tasting tours and winery visits
Why Visit Virginia?
The US state of Virginia is well-known as the Birthplace of America, a region rich in history. It may not be the first American state that springs to mind when considering a wine tasting holiday. However, Thomas Jefferson, a Virginia native, rendered the state the "Birthplace of American Wine" with his first, very earnest efforts to make great wine from French grape vines in the 1600's. With more than 4,000 acres of grapes and over 300 wineries spanning the state, Virginia is now home to 10 regions and eight distinct AVAs, making it an excellent destination for a wine tasting holiday.

WINE TASTING TOURS IN VIRGINIA
Several dedicated wine trails wind their way across Virginia, connecting wine lovers to boutique wineries. There is no mass wine production in the state, so expect intimate wine tasting experiences, typically with the owners who manage the vineyards themselves. There is a wealth of little-known varietals to sample on a wine tasting tour, such as Petit Verdot and Petit Mansang, while Bordeaux-style red blends make up some of the region's most highly acclaimed wines. America's oldest wine grape was also born in Virginia and talented local winemakers are working to restore Norton to its prominence as America's native grape.

FOOD TASTING EXPERIENCES IN VIRGINIA
Just as a sip of Virginia wine offers an authentic snapshot of the land and the vine at a specific time and place; the bountiful local produce also offers a sense of place impacted by the unique terroir of each region, from the coast of The Chesapeake Bay to the famous Shenandoah Valley. Oysters and seafood pulled fresh from the waters along with farm-fresh produce, meats and cheeses make the ideal pantry for aspiring chefs. Food tours offer the opportunity to sample some of the best cuisine Virginia brings to the table and the numerous craft breweries, cideries, distilleries and meaderies offer additional tastes for those seeking something different to try.

MORE REASONS TO VISIT VIRGINIA
There's more than wine and food to discover during a visit to Virginia. Stops at George Washington's Mount Vernon and Thomas Jefferson's Monticello are a must for history buffs, as is a visit to Williamsburg, the largest living history museum in the world. Country roads connect small towns, each with its own piece of the American story to share. A diverse landscape, from Atlantic Ocean beaches to the mountains of the Blue Ridge, offer outdoor lovers a wealth of activities to enjoy. And for those interested in arts and culture, Virginia features world-class theatres and art museums along with vibrant street art and a dynamic music scene.
WINERIST INSIDER TIP
The Virginia Governor's Cup Gold Medal Wine Trail connects wine loving visitors with some of Virginia's best wineries. Wine lovers can sign up for free and follow the trail throughout the state to taste the award-winning portfolios in an interactive, mobile-friendly way.
Best Known Grapes
More than 20 grape varieties are grown in Virginia including some well-known favourites of American wineries, including Chardonnay, Merlot and Cabernet Sauvignon. But in Virginia, these commonplace varietals tend to offer up tastes not often found in their West Coast counterparts. Vinifera varieties continue to drive the majority of grape production in the state (69% of total). Cabernet Franc, Chardonnay and Merlot varieties dominate, though Albariño, Traminette, Sauvignon Blanc, Vidal Blanc, and especially Viognier are often found in the white wine category and Petit Verdot, Malbec and Chambourcin are increasing in popularity for the reds. The Norton, America's oldest wine grape, also continues to grow in popularity in Virginia. Bordeaux-style red blends make up a large percentage of vintages. While their blending percentages vary greatly across vineyards and years, the end products are consistently lush and layered—built to age but hard to resist right now.
Read more »
Best time to visit
A four-season destination, Virginia's weather has been described as a "Goldilocks Climate" – not too hot and not too cold. It is a great destination to visit year-round, however the spring and autumn months offer ideal conditions. Spring brings a blanket of blooms to the state, with fruit trees, flowers and historic gardens found around every corner. During the autumn, the foliage turns to brilliant oranges, reds, and yellows, making it an idyllic time for scenic mountain drives. July and August can be a bit humid and therefore a little 'sticky' and in the winter months of January and February, the wineries often shorten their hours. October is the official wine month of Virginia, and an abundance of festivals can be found paying tribute to the year's best vintages. Yet wine festivals can be found throughout the state all through the year, especially between spring and late autumn. Harvest time usually occurs sometime in early autumn and is an excellent time of year to visit on a wine tasting holiday. There is a palpable excitement in the air and the opportunity to see the process first-hand, and even pick some grapes if you wish.
Read more »
How long to stay
In Virginia you can drive between the shores and the mountains within a few hours, making a long weekend of wine tasting, layered with some of Virginia's other captivating attractions, easily obtainable. Especially if you concentrate on a couple of regions, such as Loudoun County, known as DC's Wine Country due to its proximity to the nation's capital and its more than 40 wineries, or the Monticello AVA, home to Charlottesville and Thomas Jefferson as well as numerous vineyards. However, for a true taste of Virginia and its wealth of offerings, a rental car, and a week, at least, is the best way to tour, allowing you to soak in the wine scene across The Commonwealth, from the shores of the Chesapeake Bay with its salty terroir, to the rich hillsides of Virginia's Blue Ridge.
Read more »
How to get there
When arriving by air, Washington Dulles International Airport (IAD) in Chantilly, Virginia, offers multiple direct flights from a multitude of international destinations, as well as other American cities. Ronald Reagan Washington National Airport (DCA) is also in Virginia and offers numerous direct domestic flights. Once on the ground at Dulles International, Loudoun County, DC's Wine Country is only a few-minutes-drive to the west. If travelling by train from another U.S. destination, Amtrak's Northeast Regional Route is an incredible way to travel around Virginia, reaching every destination from Virginia Beach to Williamsburg, Richmond, Charlottesville, and the Blue Ridge Mountains.
Read more »