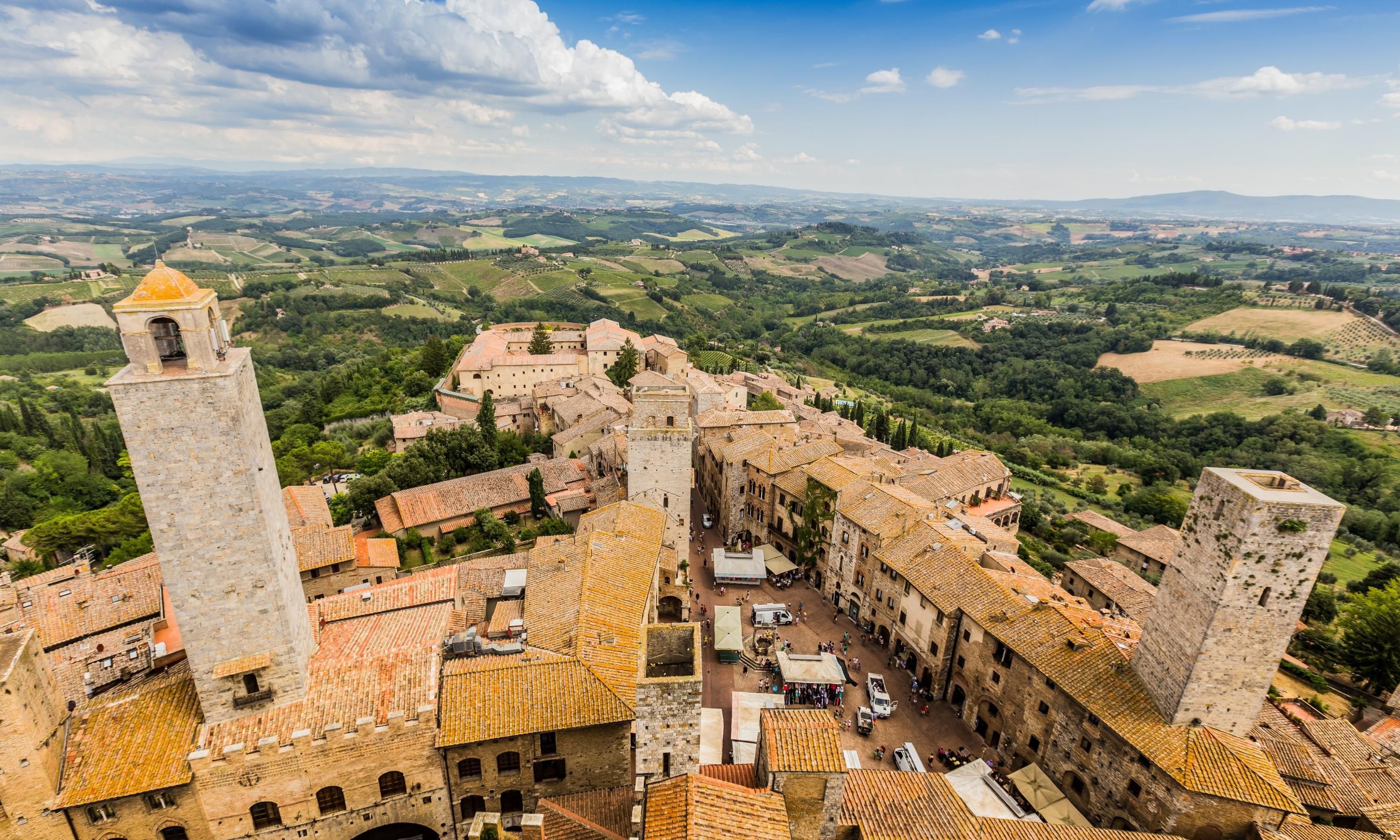 San Gimignano

wine tasting tours and winery visits
Why Visit San Gimignano?
Tuscany is not short of picturesque medieval towns but San Gimignano is arguably the most enchanting and recognisable. This charming hilltop town is best known for its magnificent stone towers that dominate the skyline. Wine lovers are lured to the region to sample one of Italy's most highly prized white wines: Vernaccia di San Gimignano. A visit to San Gimignano should be an essential inclusion of any wine tasting holiday in Tuscany.
WINE TASTING TOURS IN SAN GIMIGNANO
San Gimignano hovers on the outskirts of the Chianti Classico DOCG region: Tuscan red wine country. However, the undulating vineyards around this medieval town are planted predominantly with the powerfully flavoured, white Vernaccia grape. Produced solely in these hills, Vernaccia di San Gimignano is the first Tuscan white to boast DOCG status. Taste this renowned, characterful wine on a guided wine tasting tour from nearby Siena or Florence.
MORE REASONS TO VISIT SAN GIMIGNANO
You can easily spend a day leisurely strolling San Gimignano's narrow streets, gazing skywards at the famous towers, browsing the boutiques and eating ice cream (Gelateria Dondoli is our pick!) For the most incredible panoramic views climb the 200+ steps to the top of Torre Grossa - the tallest of the towers. Another must-visit is the UNESCO World Heritage Duomo di San Gimignano, which houses some of the finest interior frescoes and murals in Tuscany.
Best Known Grapes
San Gimignano is one of the few areas of Tuscany to produce white wine. Vernaccia di San Gimignano is made from a minimum of 85% Vernaccia grapes and it is this varietal that dominates the vineyards around San Gimignano.
Best time to visit
Wine holidays to San Gimignano and the wider region of Tuscany can be enjoyed throughout the year. Summer temperatures can rise to 30°C, but during the spring and autumn months the weather is ideal for exploring the town and wine tasting in the Tuscan vineyards. The autumn months of September and October are particularly good months to visit to witness Tuscany's grape harvest in full swing.
Read more »
How long to stay
It's easy to arrange a day tour to San Gimignano departing from Florence or Siena, that will include a guided tour of the town and a winery visit. However, for wine lovers looking for a more indepth Tuscany wine experience we would recommend a leisurely 3 - 5 day itinerary of self drive or organised tours exploring the contrasting wine growing areas of Tuscany combined with visits to the region's beautiful medieval towns. The Winerist team will be happy to tailor-make a trip for you.
Read more »
How to get there
San Gimignano is located halfway between Siena and Florence (maximum 1 hour drive) and we would recommend to base yourself in either of these cities for your wine tasting holiday. Florence Airport (Amerigo Vespucci) is located on the outskirts of Florence. The city centre is easy to reach within 20 minutes via taxi and shuttle bus. It is also easy to reach Florence by train, with frequent fast services connecting the city with other Italian cities and with international cities such as Paris, Brussels, Amsterdam and Munich. The closest airport to Siena is Florence Airport. The driving distance from Florence airport to Siena is just under 1.5 hours. Alternatively, frequent train services operate between Florence and Siena, with direct services taking 1.5 hours.
Read more »