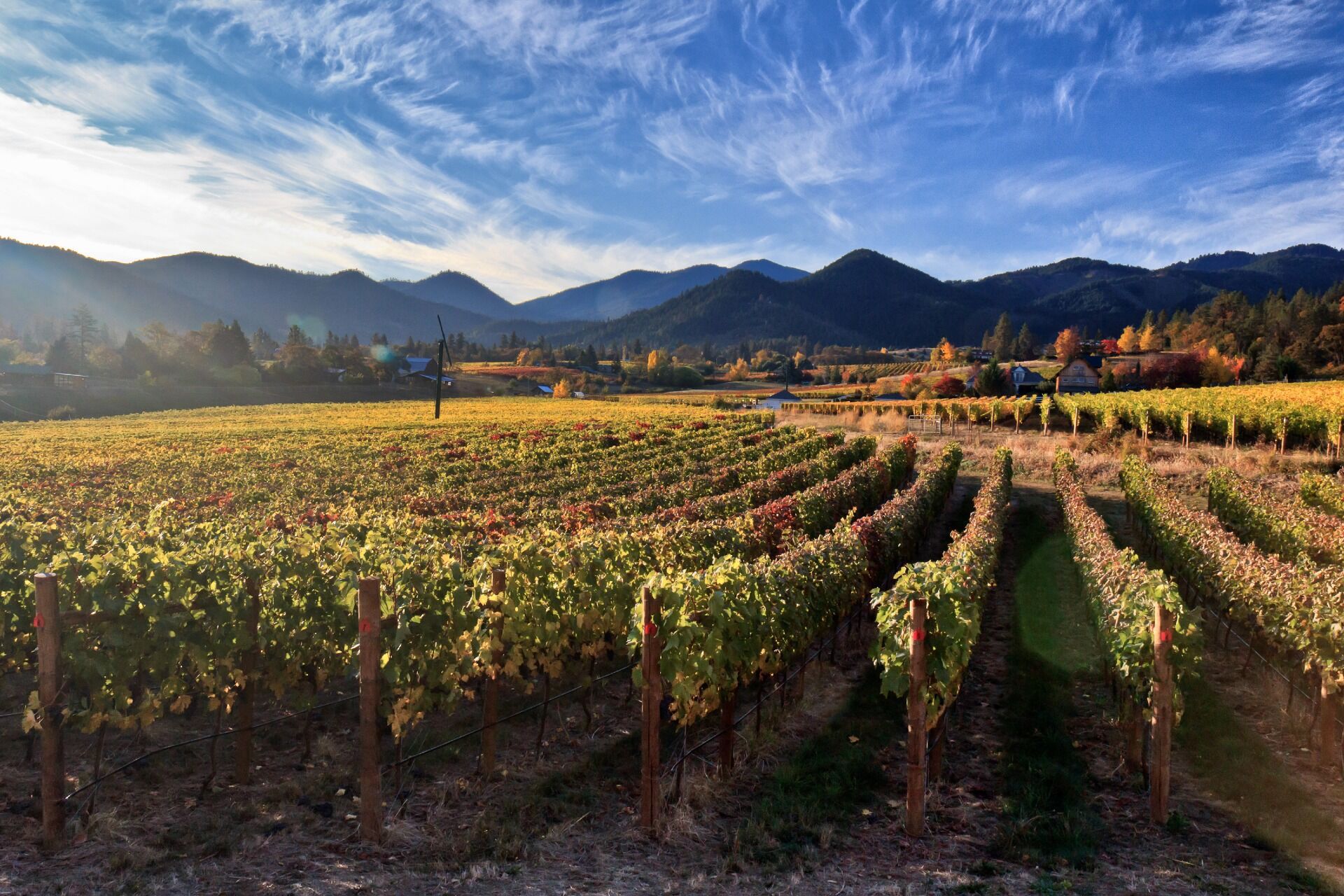 Oregon

wine tasting tours and winery visits
Why Visit Oregon?
Oregon's natural wonders and rich history have long attracted visitors however this vast north-west state is becoming increasingly well-known for its culinary scene and its Pinot Noir is drawing international acclaim, making Oregon an excellent destination for a wine and food tasting holiday. With seven major wine growing areas, almost 20 AVA's and more than 700 wineries, there are plenty of tasting opportunities in Oregon for wine lovers.
WINE TASTING TOURS IN OREGON
This relatively young wine region is dominated by small scale, personally managed vineyards; its passionate winemakers share a commitment to sustainability and a sense of place. Willamette Valley is Oregon's main wine region. Stretching over 150 miles from north to south, it's home to more than 500 wineries. The valley sits on the same latitude as Burgundy, France's iconic Pinot Noir producer, so it should come as no surprise to learn that Willamette is responsible for over 90% of the state's Pinot Noir production. A guided wine tasting tour of Willamette Valley is a not-to-be-missed experience for any wine lover.
FOOD TASTING EXPERIENCES IN OREGON
Oregon is a foodie's paradise! Wild mushrooms, truffles, hazelnuts, and the juiciest berries; sustainably caught salmon, pink shrimp and Dungeness Crab are just some of the mouth-watering local produce to be found here. The best way to sample the variety of local cuisine is on a guided food tasting tour which Winerist can arrange for you. Portland is becoming increasingly well-known for its street food scene. Food trucks dot the city selling an impressive choice of culinary concoctions. Anyone for a Voodoo Doughnut?
MORE REASONS TO VISIT OREGON
Beer drinkers will be thrilled to learn that Oregon is home to a thriving craft beer culture. The state is the second largest hops producer in the country and boasts one of the highest numbers of breweries per capita. Beer lovers should head to Bend or to Portland (affectionately dubbed 'Beervana') and wet their whistle on a guided brewery tour.
WINERIST INSIDER TIP
Spend a day following one of Oregon's dedicated Food Trails. Plotted by local food lovers, these self-guided trails showcase the freshest offerings of local farmers, fishers, brewers, and chefs in every corner of the state.
Best Known Grapes
Oregon is Pinot Noir growing country with over two-thirds of its production dedicated to this grape varietal. In terms of white grapes, Pinot Gris is the varietal most widely grown throughout the region, closely followed by Chardonnay. Although in recent years an increasing number of Oregon's winemakers have been discovering the potential of Sauvignon Blanc, and some fantastic Rieslings have been produced in Willamette Valley.
Read more »
Best time to visit
If you plan to head to the west of the USA for a wine tasting holiday in Oregon the best time to travel is typically between May and September. Summers are warm and dry, and consequently the most popular time of year to visit. The winter months are typically the wettest time of year, however if you're looking to ski and surf these are the best months to visit. Grape harvest is one of the best times of year for a memorable wine tasting holiday as there is a buzz of activity and excitement in the air and the opportunity to get involved in harvest activities such as grape picking if you wish. Harvest time typically falls between late August and late October. Consequently, Autumn is one of the most popular times of year to take a wine tasting tour in Oregon and advance booking is highly recommended. Another extremely popular time of year to visit Oregon is during the three-day Pinot Noir Celebration which is held annually in late July.
Read more »
How long to stay
Oregon is a vast state and visiting each of its distinctive wine regions would require a lengthy holiday! A long weekend in Portland will give you ample time to sample the city's famous street-food scene and craft brewery culture, with a wine tasting tour thrown in for good measure. More time will offer the opportunity to explore the majestic Willamette Valley and sample the award-winning Pinots, although with over 500 wineries to visit it's impossible to tick them all off in one trip! For the ultimate wine tasting holiday, why not take a road trip between the famous wine regions of Napa Valley and Sonoma, travelling north along the coast to Oregon comparing the scenery, the cuisine, and of course the diversity of wines.
Read more »
How to get there
If you're flying to Oregon for a wine and food tasting holiday, the state's largest airport is Portland International Airport. You can fly non-stop to Portland from several US cities including New York, Boston, Chicago, Atlanta, and Orlando. Direct international flights operate from several cities including Amsterdam, London, Frankfurt, Toronto, Vancouver. Portland International Airport is conveniently connected to downtown Portland via light-rail train. The journey time is just under 40 minutes. If you're travelling to Oregon by train, the main train station is Union Station in Portland. Three Amtrak trains offer services into Portland from Seattle, Los Angeles, San Francisco, Chicago and more.
Read more »