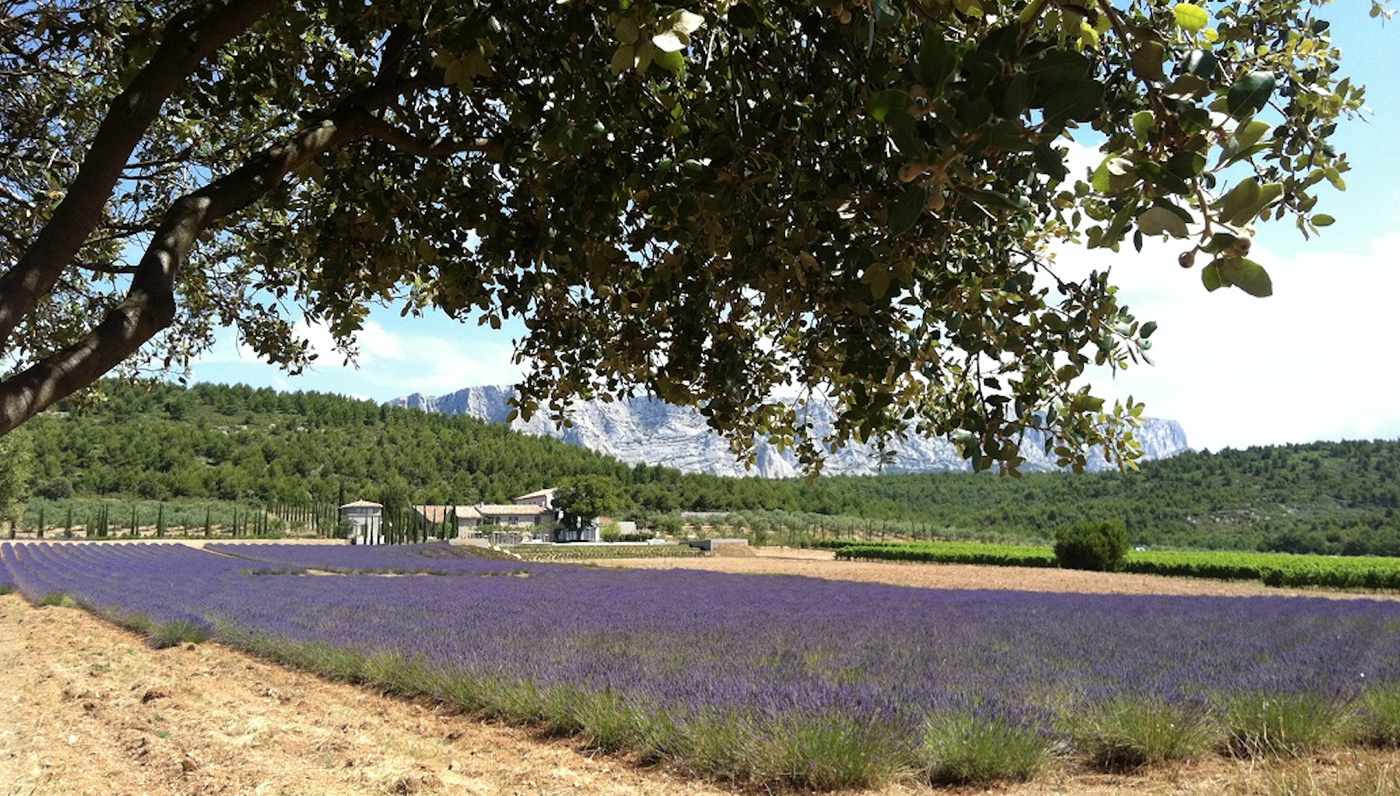 Tour Overview
---
Tour Provence's finest vineyards with an award winning author with this 6-day wine tour. Designed to encapsulate all that is great about Provence food and wine in 6 days of unforgettable experiences, this tour is a sensory and visual delight.
Wine tasting highlights include Chateauneuf du Pape, Lirac and Bandol Reds, and a visit to a natural wine vineyard. The tour is led by Jamie Ivey, cited by The Spectator as the man responsible for the pale rosé revolution. As you would expect in Jamie's company there are plenty of rosé tastings .
You can expect days filled with sunshine, as you travel through iconic countryside filled with sweeping fields of lavender. You'll enjoy cities and villages replete with beauty, historic buildings and bubbling fountains. You'll relax on café terraces overflowing with the joy of life, in a part of the world the locals call "un coin de paradis" – a corner of paradise.
The tour is based in Lourmarin. The village is classed as one of France's most beautiful villages. It is filled with shops, cafés, restaurants and art galleries and is an enchanting place to spend time. The village has an extensive literary heritage claiming Albert Camus, Henri Bosco and Peter Mayle as past residents. It is located in the Luberon Regional Nature Park, in the heart of Provence, 30 minutes north of Aix en Provence. Little known outside France, Lourmarin is beloved by the famously hard to please Parisians. Mention the name of the village to a Parisian and watch a wide smile spread across their face as they confess: "J'adore Lourmarin".
Itinerary:
Day 1: Sunday - Arrival
You will be picked up by taxi or minibus (depending on numbers) at an agreed time from either Aix en Provence TGV or Marseille Marignane airport. You will then be transferred to the accommodation in a 4-star hotel in the gorgeous Luberon village of Lourmarin. The journey is an easy hour's drive through picturesque countryside.
Upon arrival, a small hamper of luxurious Provencal goodies awaits in your bedroom. Any free time can be used to explore the village. On Sundays from Easter to the end of September there is usually an artisan market or brocante market. Gather for a drink's reception around 6.30pm and a gourmet welcome dinner.
Day 2: Monday - Aix en Provence
A highlight of the tour is the visit to Aix en Provence. Known as the Paris of the south, an enjoyable day can easily be spent people watching from the café terraces and indulging in a little retail therapy. Tour leader Jamie Ivey will share his love of the city in a tasting tour including local specialities, such as calissons, navettes, and savoury and sweet madeleines. Jamie will then lead a Provencal rosé tasting which will be followed by lunch in an off the beaten track local restaurant.
After lunch the tour visits Chateau Vignelaure. American wine critic Robert Parker states that Chateau Vignelaure is: "One of the showpiece properties not only of Provence, but of France."
The uniqueness of the wine made by Chateau Vignelaure stems from its Cabernet Sauvignon grapes which in 1960 were grafted from the classed Bordeaux growths at Chateau Lagune by George Brunet. As a result the Chateau produces a Provencal wine which is capable of ageing for 15 to 20 years. At its best, so the owners claim, it is reminiscent of fine Bordeaux.
Returning to Lourmarin, you can choose from the numerous village restaurants in which to eat. You will be free to spend as much or as little time together with the group as you wish. Gregarious couples who enjoy company can choose to eat with the group. More private couples can take the opportunity for some time apart from the group.
Day 3: Tuesday: Luberon Villages, Market Food Tasting and Wine Tasting.
The locals call the Luberon a corner of paradise. It's not hard to understand why: there are countless picturesque villages; numerous vineyards producing sumptuous wines; olive groves that stretch for miles; cherry orchards which produce snow storms of blossom in Spring and rolling mountains stretching away towards the Alps.
The day starts with a visit to Cucuron market. Centred around an old water basin (etang), the market is one of the most picturesque in Provence. Tour the market and enjoy tastings of local products.
For lunch you will stop at Domaine de La Citadelle outside Menerbes and enjoy a buffet lunch and wine tasting. There is even time to visit the vineyard's famous corkscrew museum.
In the afternoon you will visit either Roussillon, famed for its red soil (local legend has it that a jilted lover threw herself from a cliff and her blood stained the soil for miles around) or Gordes, which for decades has been an ultra-chic retreat for wealthy Parisian families and French celebrities.
In the evening, for supper, you can choose from the numerous village restaurants.
Day 4: Wednesday: Les Alpilles – Natural Winery; Chateauneuf du Pape Tasting and Olive Oil Tasting.
First stop is a natural winery (Domaine Milan) just outside the town of Saint Remy de Provence. Taste up to 10 different natural wines and learn about the philosophy of a natural winemaker. Lunch afterwards is in the picturesque village of Eygalieres. This is followed by a Chateauneuf du Pape and Les Alpilles wine tasting at a prestigious local vineyard (Domaine de La Vallongue). There will also be an opportunity to taste the Domaine's award-winning olive oils, learn about the olive oil production process, and the different varieties of oil available.
In the evening, for supper, you can choose from the numerous village restaurants.
Day 5: Thursday: Cassis and Bandol
On the way to the glittering Mediterranean and the charming port of Cassis, you will visit one of the top vineyards of Bandol. The region is famed for its Mourvedre based reds and rosés. Arriving harbourside in Cassis there's time to explore the port before enjoying lunch together. Enthusiasts of seafood should not miss the opportunity to try Provence's famed Bouillabaisse fish soup.
In the afternoon the tour will stop for a wine tasting at Domaine Paternel, where you can taste the Cassis' stella white.
In the evening, for dinner, you can choose from the numerous village restaurants.
Day 6: Friday: Lourmarin
The village of Lourmarin hosts one of the largest and best Provencal markets. It's the perfect opportunity to do something last minute shopping before heading home.
Please note: This tour is also available as a private tour, with departures every other Sunday. Please get in touch here for more information and to check available dates.
What's included
---
Welcome dinner

Gourmet welcome dinner

Daily breakfast

Winery visits and wine tastings

Four lunches paired with wine and soft drinks

Tour guide

Airport/hotel pick-up and drop-off

5-nights accommodation in 4-star hotel

Transportation

Evening meals (except on the first night)

Any personal expenses
Meeting point
---
Aix-en-Provence TGV train station or Marseille airport.
Cancellation Policy
---
Fully refundable up until 6 months before departure time.
If you cancel your trip up until 15 days before departure time, you can change the dates of your tour to occur within two years from the date of the cancelled trip.