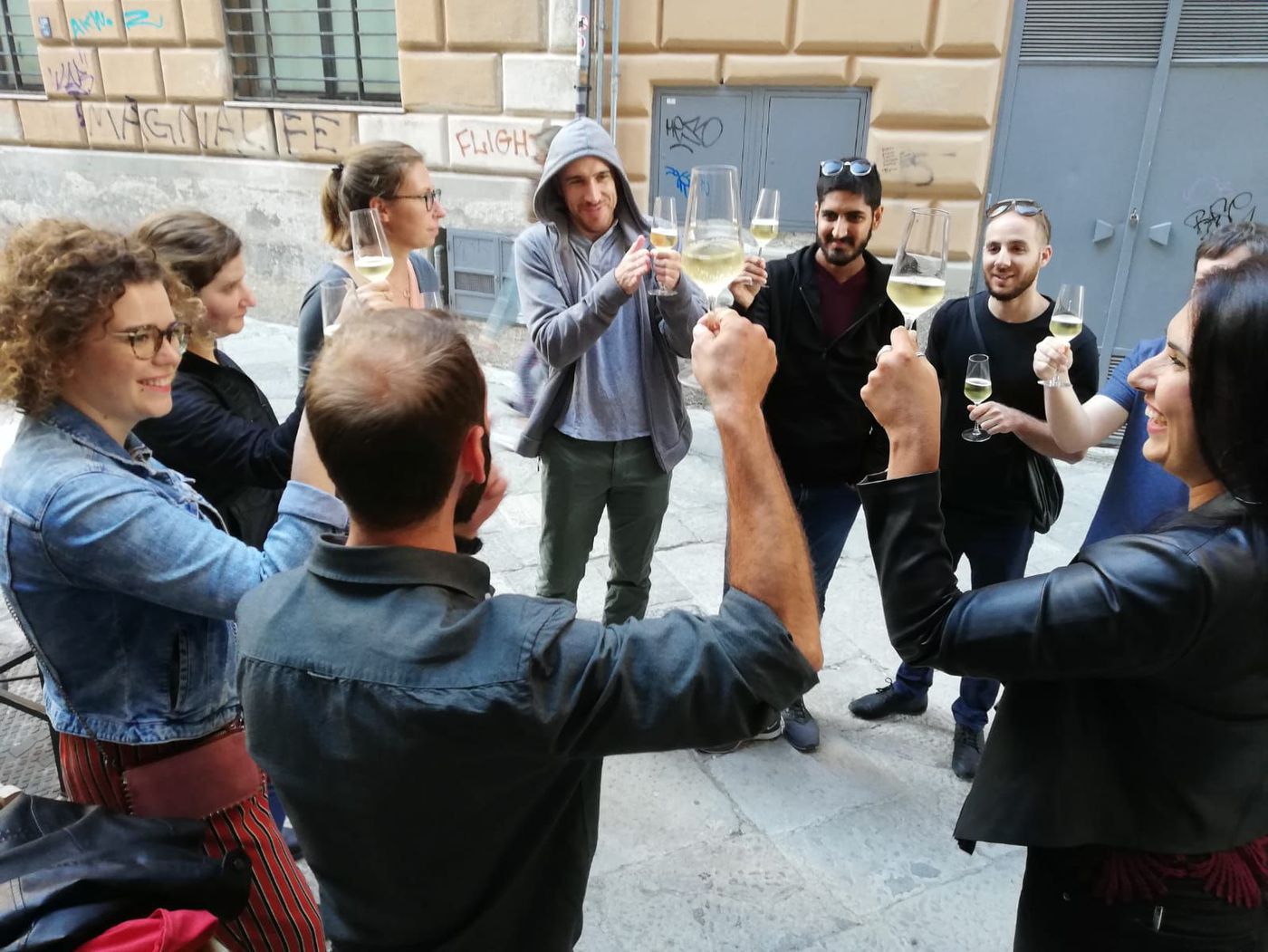 Tour Overview
---
The Streaty Palermo night tour starts from the central Teatro Massimo. The night itinerary takes travelers through the Olivella area, the modern port of La Cala, and the vibrant Vucciria district. The tour starts with a fine welcome drink and some exciting bruschettas topped with fine and rare Sicilian products. This is the best way to warm up and meet the group members. At night, travelers can try some special delis at a family-run panificio and taste some challenging food cooked at street stalls while sipping a cold beer. The visit to a typical Rosticceria reserves a great savory treat, the one and only baked Ravazzata al ragù!
The night tour is a great option for travelers who want to skip the morning heat and for all those travelers who want to meet new friends and have some cheerful toast together! The tour ends with a tasty treat, the one and only Palermitan brioche with gelato or a fine seasonal cake at our favorite gelateria hidden in a dark alley of the city center.
Not only food! The Palermo night tour is also a great chance to learn about the city's history and arts, traditions, and other exciting aspects of the regional culture.
What's included
---
Licensed local guide service

Street food tasting - daily selection

3 drinks (beer and wine)

Seasonal dessert (gelato, or cannoli or other seasonal cakes)
Cancellation Policy
---
No refunds within 72 hours (3 days) of the day of the booking
TOUR POLICY

Waiting policy. We have a strict ten-minute waiting policy. Out of courtesy to the other guests, we do not wait for latecomers. Once the tour has started we do not guarantee a second chance to reach the group. No refunds are due for latecomers
Food Allergy Disclaimer. Travelers join this tour at their own risk. The food provided on this tour may contain or come into contact with common allergens (or actual food traces), such as dairy, eggs, wheat, soybeans, nuts, shellfish, or wheat. Our tours have a high risk of nut contamination. We cannot guarantee the total absence of food allergens and cross contaminations.
We are not responsible for any accident, theft, loss of personal items, illness, or death, occurring during the tour or arising after participation.
Streaty Tour Guides. The guides are local and regularly licensed. As official tour guides, they discuss many subjects, not only food but also art, history, and social and controversial issues. The guides are food experts. Their knowledge starts from their passion for the local cuisine. Our guides are well-trained by the company and their performances are constantly monitored. Here quality isn't just about food but more about the whole experience
Customers who bought this tour also bought
---