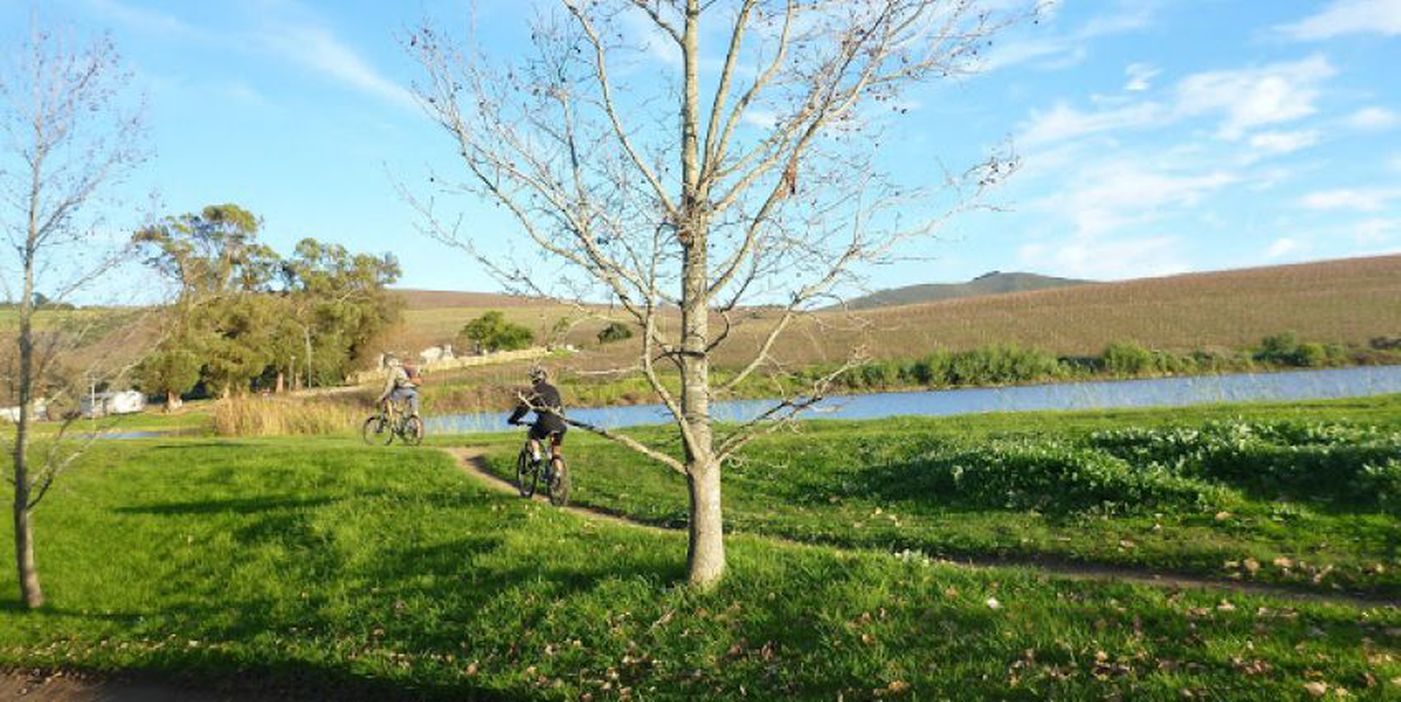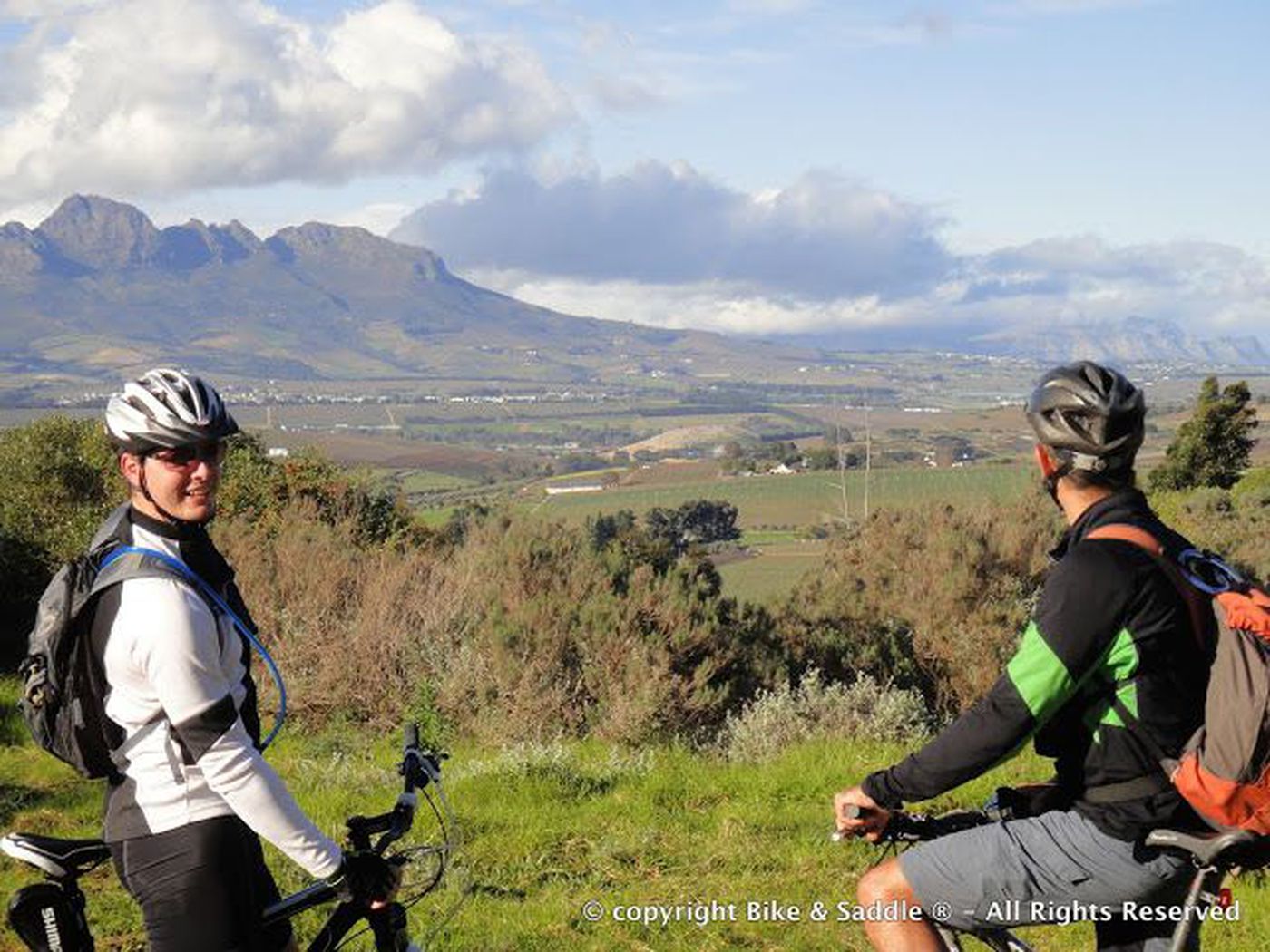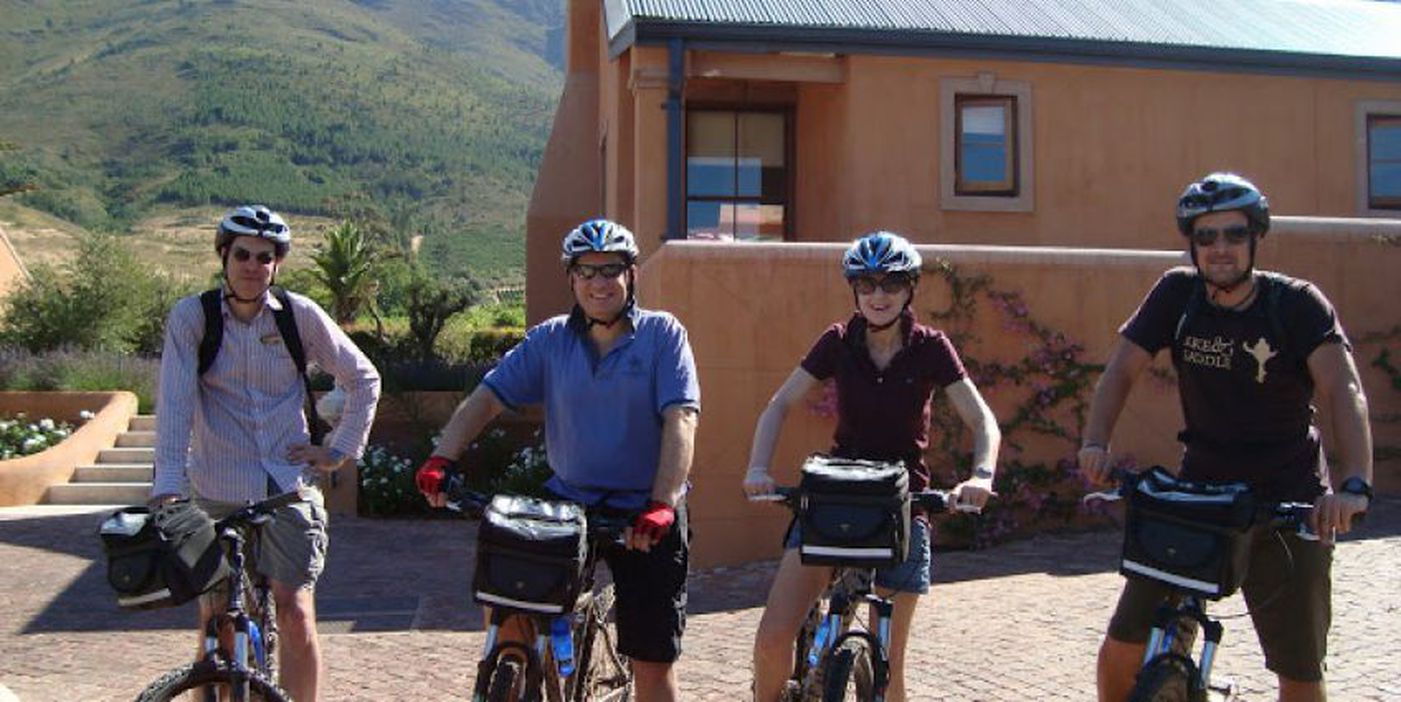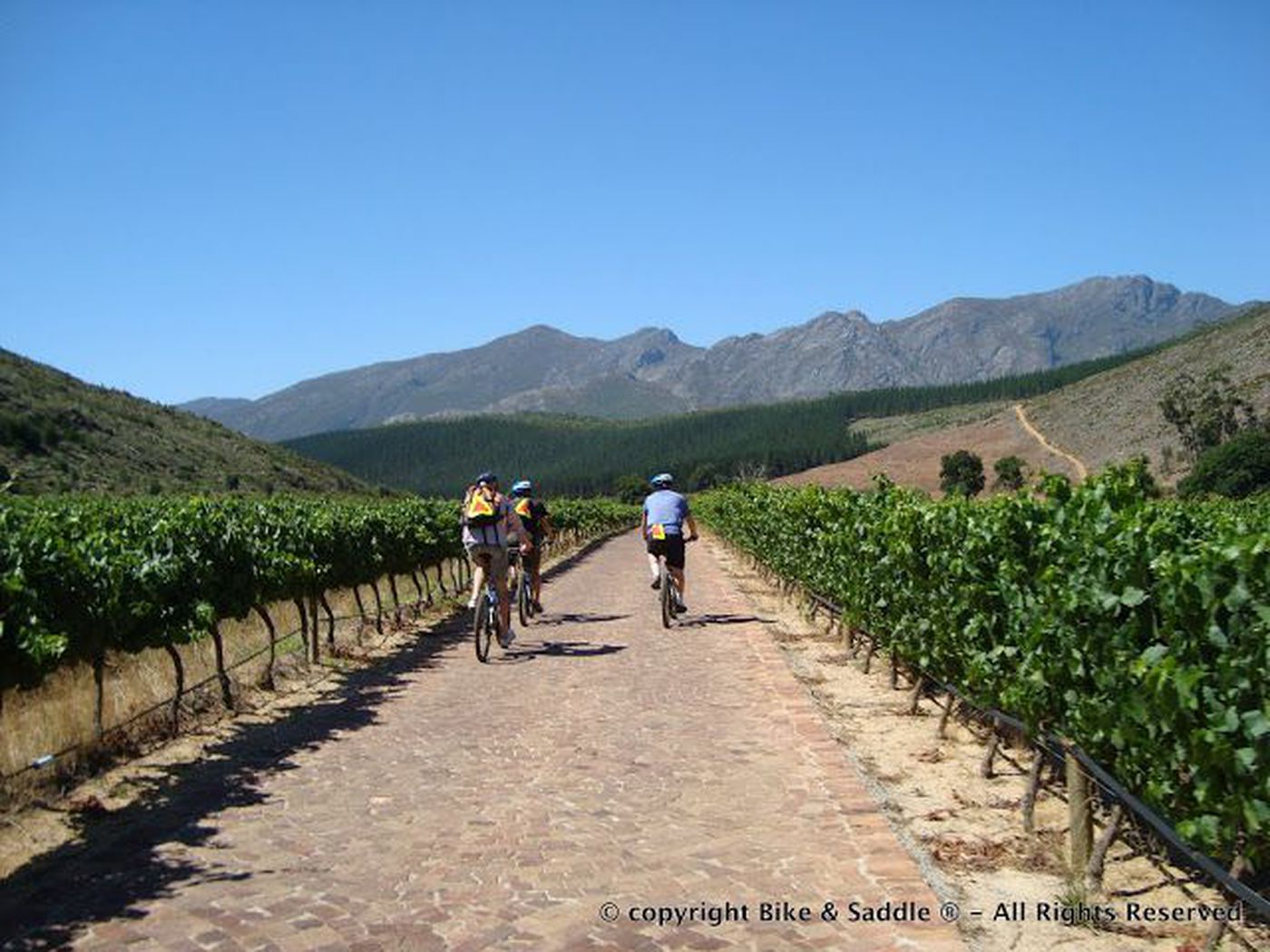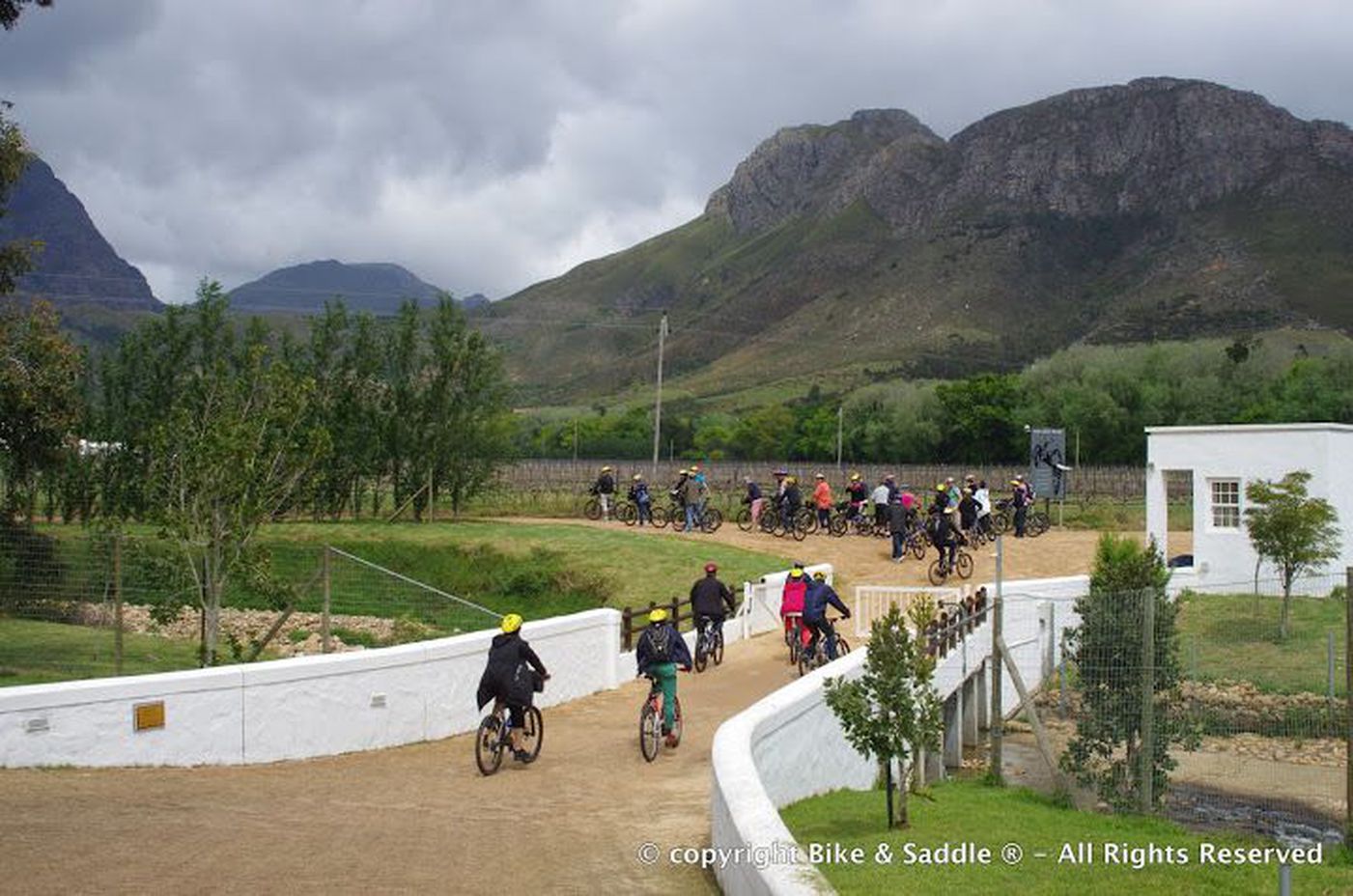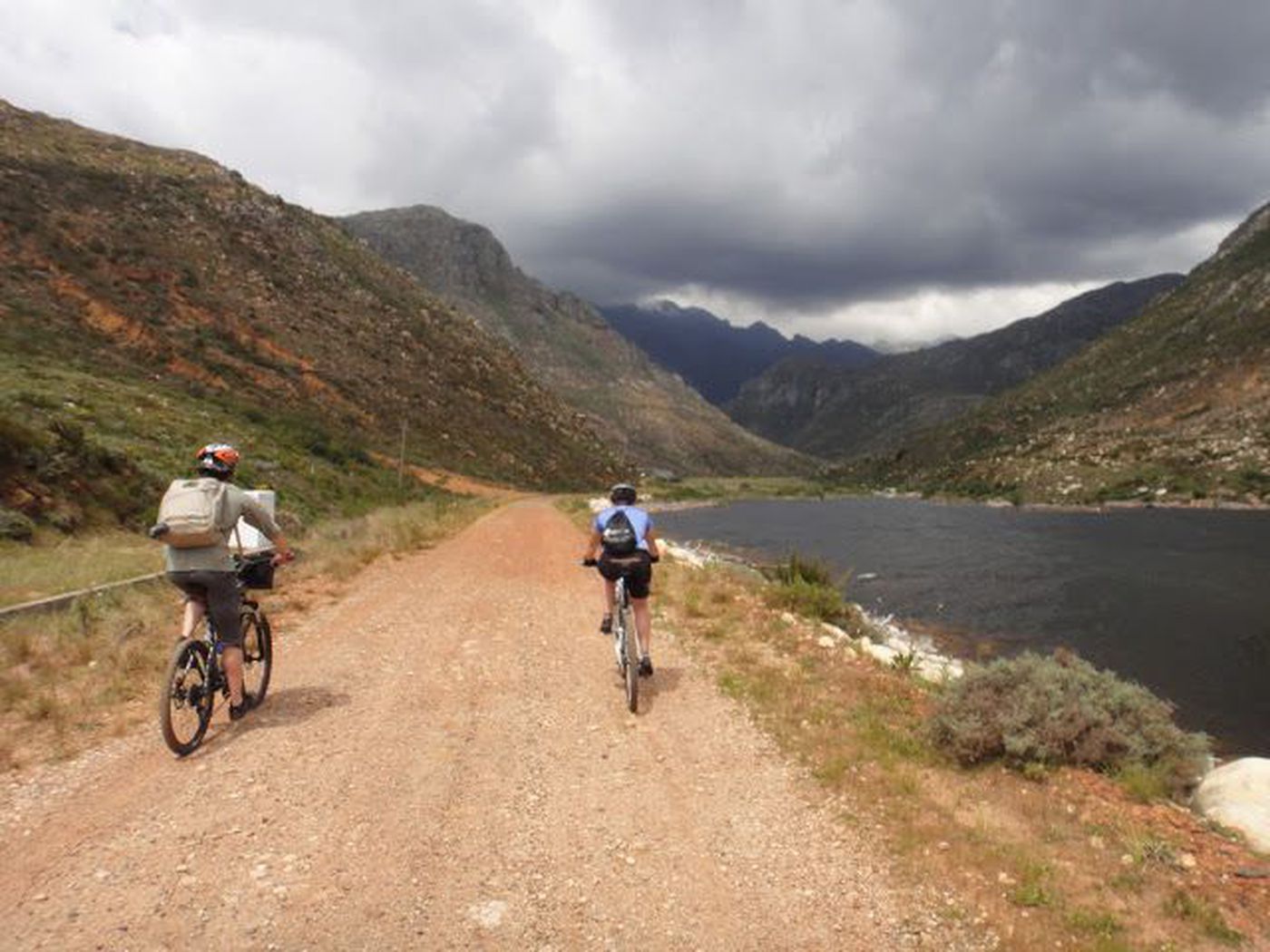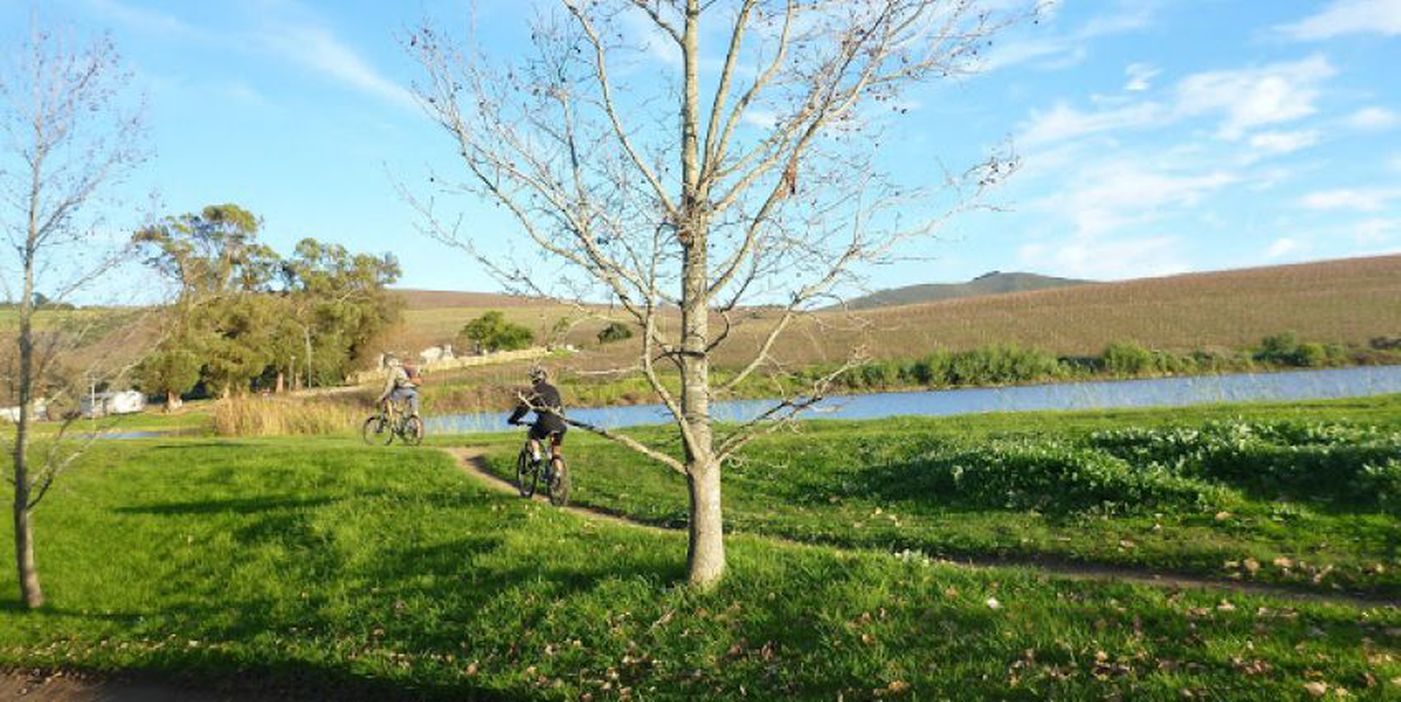 Tour Overview
---
We start our Franschhoek Village Cycle Tour from the historic Dutch Reformed churchyard.
The fascinating tour continues and highlights significant Huguenot farms and how building styles had changed over the years. We learn how to identify the early Cape Dutch buildings with their distinctive, ornate rounded gables, symmetrical windows and H-shaped design and those that had been 'Victorianised' with the addition of verandas and sash windows.
We stop at the secondary school, with its Cape chestnut trees, the oil of which (yangu) has ultra-violet protection properties so is used in the cosmetic industry.
We continue and pass celebrity chef Reuben Riffel's house - Franschhoek is often referred to as South Africa's gourmet capital, with Reuben one of several top-notch chefs in the valley.
Our penulitmate stop is the Huguenot Chocolate Factory for a tour and tasting before turning back to Dieu Donne, this time through the vineyards of Grande Provence for the trip's wine tasting. A fitting nod to the wine culture of Franschhoek!
NOTE: the tour can be extended to include two wine tastings and one cellar tour, culminating in a half day trip.
What's included
---
Pick-up and drop-off

Wine & chocolate tasting

Personal service from the best guides in the industry

Bikes and all equipment
Cancellation Policy
---
Cancellation & Refund policy: Rates are quoted per trip per person, in South Africa Rand, and are inclusive of Value Added Tax at 14%. We reserve the right to alter or amend rates and trip details at any time. Cancellations must be received 48hours prior to the scheduled trip departure time to avoid penalties; We issue a 100% refund (less 2.5% processing fee) if these cancellation terms are met; beyond the cut-off time, guests forfeit 100% of the trip fee. No exceptions can be made. In the event of a "no-show" or cancellation see point 3 above. Please note that the cancellation must be made in writing and has not been deemed received by us unless confirmed in writing. The owners and management cannot be held responsible for any loss or damage to the property or for any possessions of the guest participating in a trip. Please note that departure hours are not flexible; therefore kindly ensure guests are familiar with the trip departure location and time. NOTE: Quote details, including rates quoted cannot be guaranteed prior to payment received. Final confirmation can only be provided once full payment has been made. The Cancellation fee will be determined according to the policy outlined above. Exceptions to our cancellation policy cannot be made for any reason, including weather, terrorism, civil unrest or personal emergencies. There is no refund for arriving late or leaving a trip earlier.
Customers who bought this tour also bought
---
Half-Day Winelands Cycle Tour in Stellenbosch with Two Tastings
South Africa , Stellenbosch , Stellenbosch