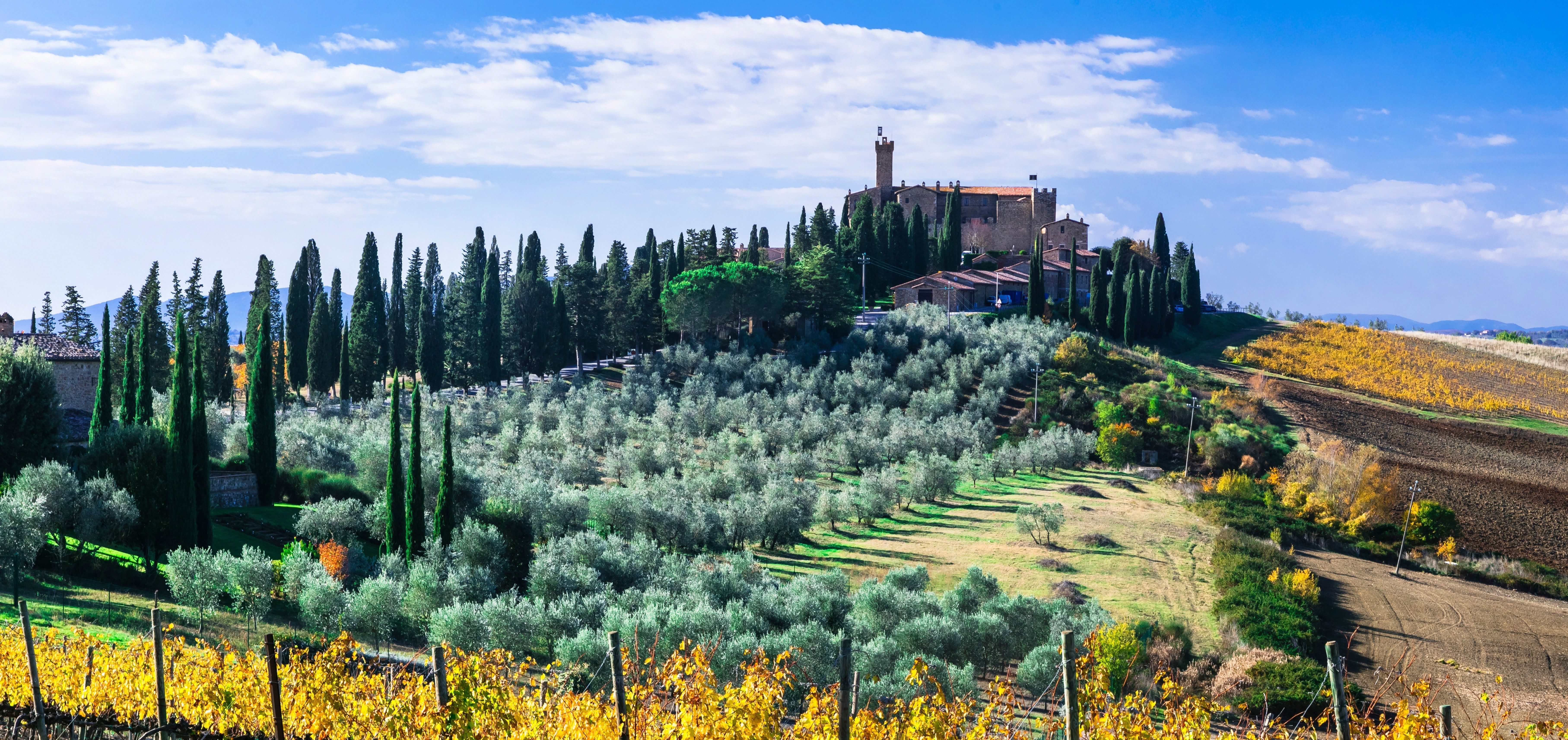 Brunello di Montalcino

wine tasting tours and winery visits
Why Visit Brunello di Montalcino?
Brunello di Montalcino, situated in the heart of Tuscany, is one of Italy's most famous wine producing regions, and the perfect destination for a wine tasting holiday. The intense, full-bodied red wines produced here are amongst the most prestigious and sought-after wines in the world. Learn what makes Brunello di Montalcino so exclusive, and why it's a favourite of wine collectors, on a wine tasting tour from Siena or Florence.

WINE TASTING TOURS IN BRUNELLO DI MONTALCINO
Since the 1950's there has been an incredible increase in Sangiovese vine plantings in this iconic DOCG region and the number of wine producers has skyrocketed. So you're spoilt for choice when it comes to wine tasting opportunities! The Winerist team can help narrow down your search and recommend a small group or privately guided wine tasting tour to suit your needs.

MORE REASONS TO VISIT BRUNELLO DI MONTALCINO
When you're not sampling Italy's most exclusive wines, discover the untouched Tuscan countryside of the Brunello di Montalcino region. A picturesque rural landscape of vineyards and wineries interspered with small medieval villages. A tour of the region is not complete without visiting the historical hilltop town of Montalcino, with its imposing citadel.
WINERIST INSIDER TIP
Looking for a slightly lighter, younger Sangiovese wine? Rosso di Montalcino DOC wines follow the 100% Sangiovese policy of big brother Brunello but without the long aging process, and the hefty Brunello price tag.
Best Known Grapes
Brunello is the local name for the Sangiovese Grosso clone from which Brunello di Montalcino should be made in its entirety. The last 60 years has seen an incredible increase in Sangiovese plantings across the region: from around 150 acres to over 6,400 acres of Sangiovese vines.
Read more »
Best time to visit
Wine holidays to Brunello di Montalcino and the region of Tuscany can be enjoyed throughout the year. The region around Montalcino enjoys an almost Mediterranean climate, due to the proximity of the sea. The spring and autumn months are the perfect time of year to visit Brunello di Montalcino, when the landscape is at its most picturesque and the weather is favourable. The autumn months of September and October are particularly good months to visit to witness the region's grape harvest in full swing.
Read more »
How long to stay
It's easy to arrange a full day wine tasting tour of Brunello di Montalcino departing from Florence or Siena. These tours are an excellent introduction to the region and the rich, robust wines produced here. However, for wine lovers looking for a more indepth Tuscany wine experience we would recommend a leisurely 3 day itinerary of self drive or organised tours offering a full immersion into the various wine growing regions of Tuscany including Chianti Classico.
Read more »
How to get there
To visit the Brunello di Montalcino region, base yourself in Florence (a 2 hour drive away) or in Siena (a 1 hour drive away). Florence Airport (Amerigo Vespucci) is located on the outskirts of Florence. The city centre is easy to reach within 20 minutes via taxi and shuttle bus. It is also easy to reach Florence by train, with frequent fast services connecting the city with other Italian cities and with international cities such as Paris, Brussels, Amsterdam and Munich. The closest airport to Siena is Florence Airport. The driving distance from Florence airport to Siena is just under 1.5 hours. Alternatively, frequent train services operate between Florence main train station and Siena, with direct services taking 1.5 hours.
Read more »