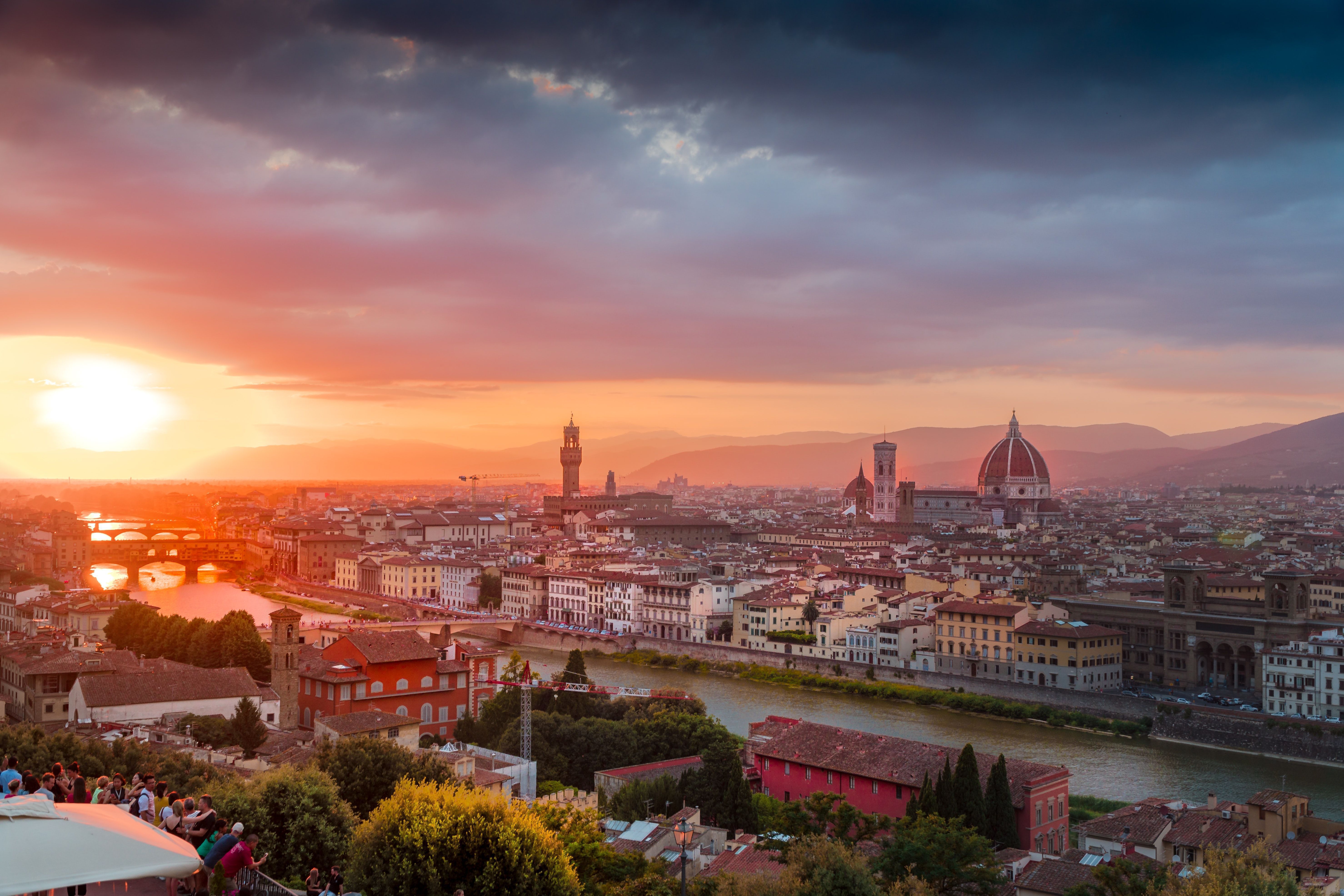 Florence

wine tasting tours and winery visits
Why Visit Florence?
Florence lies in the heart of Tuscany, Italy's best-known wine producing region, famous for its picture-postcard landscape of vineyards and cypress trees. The city is a magical base from which to explore the iconic wineries of Chianti and Brunello di Montalcino on a wine tasting trip into the countryside. Not only does Florence offer unmatchable wine tasting opportunities, but this charming city is steeped in culture and history, rich in art and architecture and boasts a thriving food scene that champions Tuscan produce.
WINE TASTING TOURS IN FLORENCE
The iconic wine producing regions of Chianti, Montepulciano and Montalcino are all easily accessible from Florence. There could be no better place in Italy for a wine tasting holiday! Discover the differences between Chianti and Chianti Classico, understand the importance of the Sangiovese grape and learn what makes a Super Tuscan wine on a small group or private wine tasting day tour from Florence.
FOOD TASTING EXPERIENCES IN FLORENCE
Wherever you travel in Italy you're guaranteed delicious cuisine, however Tuscany is abundant with prized local produce and Florence in particular offers memorable food tasting experiences. Foodies should visit the Mercato Centrale – the city's bustling food market packed with stalls offering local cheese and fresh pasta, seasonal fruit & veg, and locally reared meat. Join a small group food tour for a guided market visit with a local chef, followed by a hands-on introduction to cooking Tuscan cuisine.
MORE REASONS TO VISIT FLORENCE
If it's your first visit to Florence you'll want to gaze at Michelangelo's famous marble statue of David and admire the magnificent Cathedral of Santa Maria del Fiore. Art lovers should visit the famous Uffizi Gallery which is full with Renaissance masterpieces. However, simply stroll the streets of Florence and around every corner you'll discover a beautiful building, picture-postcard piazza or towering historic statue. You can easily while away a day marvelling at the city's splendid architecture punctuated with coffee breaks, people-watching gelato stops and a leisurely lunch.
WINERIST INSIDER TIP
The Negroni cocktail was created in Florence so where better to relax with a glass of this popular apertivo drink! For an apertivo with a view head to one of the city's rooftop terraces and soak up the breathtaking panorama with a Negroni or Spritz.
Best Known Grapes
Tuscany is red wine country! The region's most prominent grape is also Italy's most widely planted red grape variety: Sangiovese. This thin-skinned grape thrives in the dry, warm climate of the region, producing rich, alcoholic wines. It is the main grape used in almost all Tuscany's top red wines including Chianti. Wines that carry the famous Brunello label are made from 100% Sangiovese grapes. In addition to being used as a single varietal, there has been a tradition-breaking movement towards blending Sangiovese with non-indigenous varieties such as Cabernet Sauvignon, Cabernet Franc and Merlot. Labelled 'Super Tuscan', these blended creations have put premium Italian wines firmly back on the map!
Read more »
Best time to visit
Florence is a magical city to visit throughout the year as each season offers something different. The spring months of April, May and June, and autumn months of September and October are the perfect times of year to visit Florence, as the weather is favourable with minimal chance of rainfall. The summer months of July and August see high temperatures of 31 °C / 88 °F , whilst winter temperatures can drop to 10 °C / 50 °F
Read more »
How long to stay
If you can only spare a long weekend in Florence, you have time to tick off the city's not-to-be-missed sights such as Michelangelo's David and the Cathedral of Santa Maria del Fiore and enjoy a tasty introduction to the city's culinary scene and Tuscan wines. Stay longer and you can fully immerse yourself in Tuscan culture, wine and food. Enjoy wine tasting day tours into the surrounding wine regions of Chianti, Montepulciano and Montalcino, and explore the nearby medieval towns of Siena and San Gimignano.
Read more »
How to get there
Florence Airport (Amerigo Vespucci) is located on the outskirts of Florence. The city centre is easy to reach within 20 minutes via taxi and shuttle bus. Alternatively, you can fly into Galileo Galilei International Airport in Pisa, and take the train to Florence (a journey of around 1.5 hours) It is also easy to reach Florence by train as the Italian railway network connects with the rest of the European rail system. There are direct international trains from Paris, Brussels, Amsterdam and Munich. Fast InterCity links connect Florence with other Italian cities including Rome, Milan, Bologna, Verona, Venice, Genoa and Naples.
Read more »