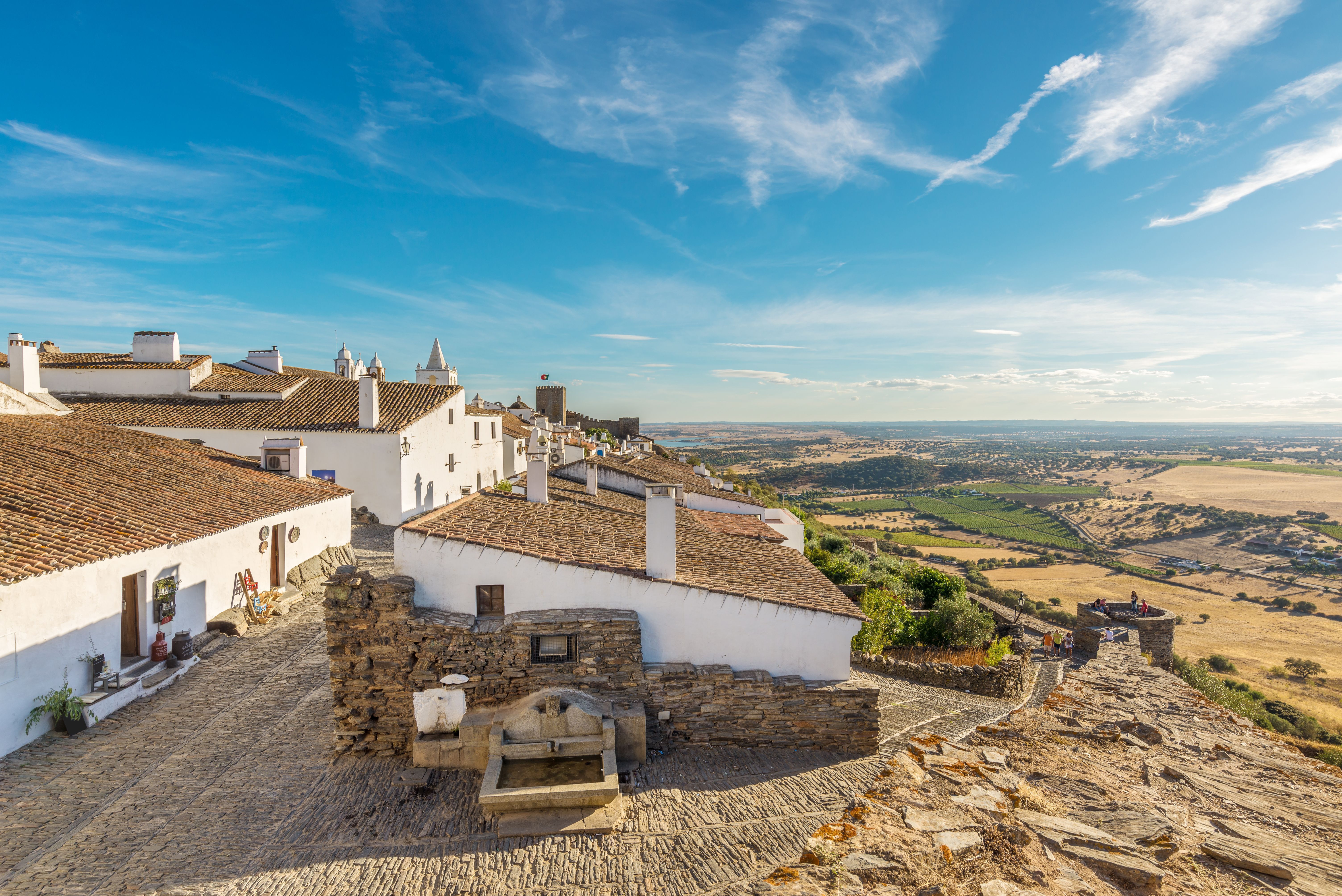 Alentejo

wine tasting tours and winery visits
Why Visit Alentejo?
The Alentejo region is home to castle-topped hills and towering cork forests, ancient olive groves and uncrowded beaches. All just a one-hour drive from Lisbon. Thousands of hectares of vineyards stretch across the landscape, producing distinctive, high quality wines that are surprisingly little-known outside Portugal. Discover this slow-paced, hidden corner of Portugal on a wine tasting holiday.

WINE TASTING TOURS IN ALENTEJO
Discover Alentejo's exceptional wines on a wine tasting tour. The distinct characteristics of the region's terroir, the long hours of exposure to the sun, and the selected grape varieties produce high-quality bold reds and well-balanced white wines. The art of winemaking here is a careful combination of preserving centuries-old traditions, with innovation. Alentejo is the only wine region in Portugal where winemakers still practice the ancient Roman technique of fermenting and storing wine in clay pots called "talhas de barro". These immense vessels can hold up to a staggering 520 gallons of wine and can reach seven feet tall.
FOOD TASTING EXPERIENCES IN ALENTEJO
Alentejo's cuisine is simple, but imaginative; created using seasonal ingredients that are bountiful in this rural, agricultural region and prepared by the people who have lived here for generations. Vast olive groves produce some of the smoothest extra virgin olive oil you will have tasted. This is also the home of the Alentejo black pig from which the famous Iberian pork ham is produced. Book a food tasting tour for a tasty introduction to the delicious regional specialties.
MORE REASONS TO VISIT ALENTEJO
It's easy to fall into Alentejo's relaxed pace of life and spend your time drinking local wine surrounded by vineyards and indulging in leisurely meals. However, a visit to Evora is a must. This enchanting, serene city has been designated a UNESCO World Heritage Site and we recommend taking time to explore the cobbled streets. Away from the vineyards, discover the untainted countryside, learn about the fascinating production of cork, and relax on one of Alentejo's uncrowded sandy beaches.
Best Known Grapes
Portugal is home to over 250 native grapes, which are often used in blends of various kinds. The most common grapes used in the region of Alentejo include the following: For white wines, blends are usually dominated by the Antão Vaz variety, which contributes great acidity and tropical fruit flavours. Other white grapes used in blends include Arinto and Roupeiro (Malvasia, Siria), which also provide excellent acidity, as well as Verdelho, Diagalves, Manteúdo, Perrum, Rabo de Ovelha, and Fernão Pires. Red grapes used in blends across the region include Aragonez (Tempranillo), Alicante Bouschet, Touriga Nacional, Alfrocheiro, Castelão, Trincadeira, Moreto, Tinta Grossa, and Tinta Caiada.
Read more »
Best time to visit
The best time to visit the Alentejo region is during the Spring and Autumn months. In Spring, the blooming of the green mantle of hills and fields full of flowers produces beautiful landscapes. In Autumn the golden light is reflected by the golden cornfields inviting you to contemplation and sweet "fare niente". Temperatures during the high season summer months of July and August can reach between 35 and 40ºC. It's worth keeping this in mind when planning a wine tasting holiday to Alentejo.
Read more »
How long to stay
If you are visiting Lisbon and have only one free day then you can enjoy an insight into the Alentejo region, its food, and wines, on a full day wine tasting tour with an expert guide. However, to truly appreciate Alentejo you will need a visit of two or three days and we would suggest staying one or two nights in Alentejo itself. There is accommodation for all tastes: from hotels housed in ancient palaces to personalised accommodations in charming country estates. Whichever you choose you are guaranteed a warm, friendly welcome.
Read more »
How to get there
The closest international airport to the Alentejo region is Lisbon International Airport. Thanks to excellent road links the airport is less than 1.5 hours' drive to Alentejo. Alternatively, you can take a train from Lisbon to Evora (the main town in Alentejo). The train journey takes around 2 hours. The region is also very close to Spain (about 50 minutes) so you may wish to extend your holiday in Spain. Madrid is just over six hours drive from Lisbon.
Read more »