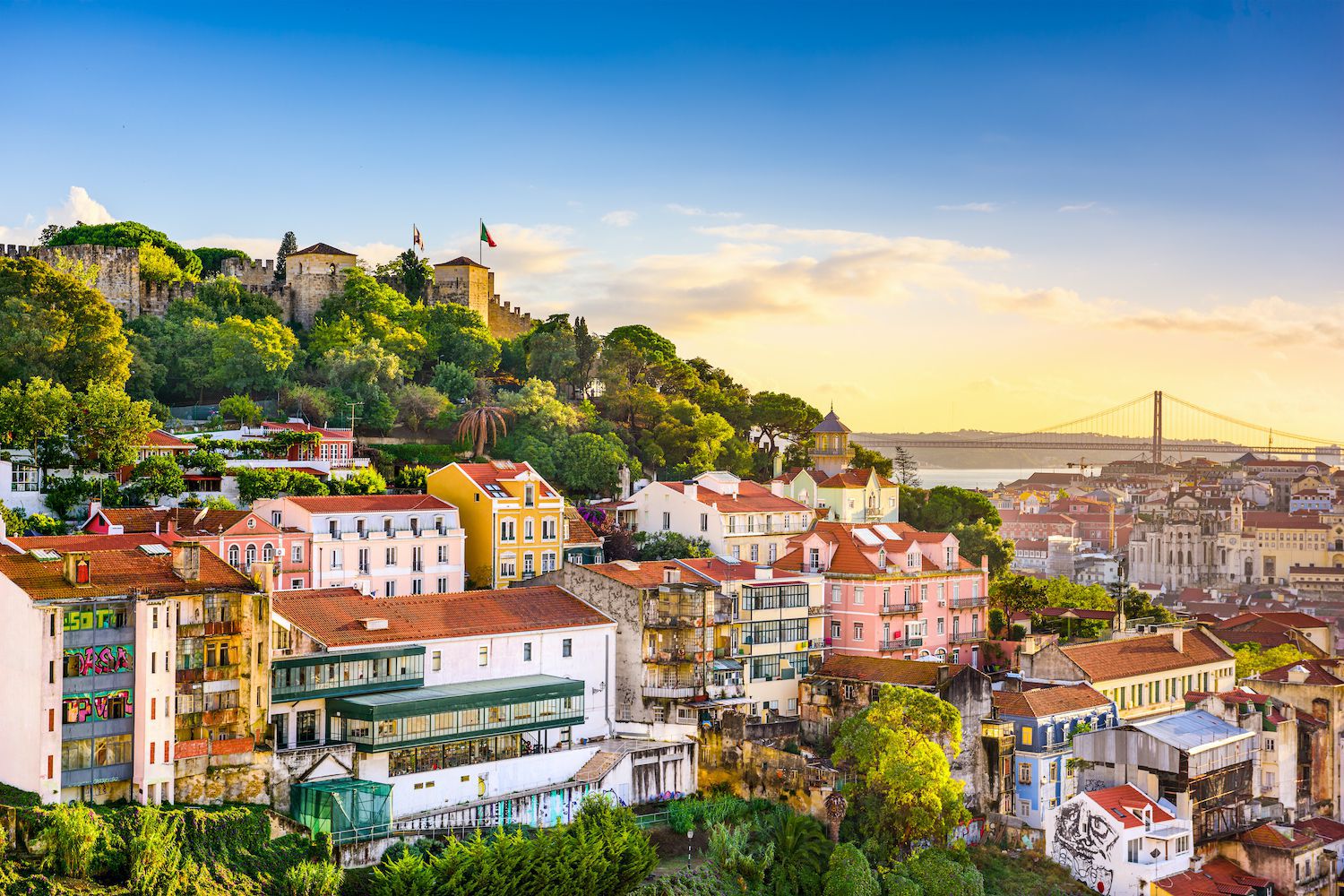 Lisbon

wine tasting tours and winery visits
Why Visit Lisbon?
Lisbon, Portugal's charming capital city, is rich in cultural heritage and is home to extraordinary historical sights and stunning architecture. Just outside this timeless city lies some of Portugal's most productive and diverse wine regions making Lisbon an excellent destination for a wine tasting holiday. If that's not enough to entice you, the region boasts beautiful beaches, mouthwatering gastronomic opportunities and (almost) year-round sunshine.
WINE TASTING TOURS IN LISBON
Within one hour's drive of the bustling city of Lisbon you can be supping locally produced wines, in family-owned estates, surrounded by vineyards or accompanied by views over the Atlantic. Travel the short distance across the Tagus River to the picturesque Setúbal Peninsula to sample the region's pale orange, Moscatel de Setúbal, which, incidentally, is perfectly paired with a pastéis de nata. The diversity of landscape and terroir in this corner of Portugal produces an extensive variety of wines and multiplicity of grape varieties which are best experienced on a wine tasting tour guided by a local expert.
FOOD TASTING EXPERIENCES IN LISBON
Lisbon's culinary scene is diverse and delicious: whether you're looking for extraordinary Michelin-starred dining, a more traditional culinary experience or a streetfood snack. Seafood is particularly plentiful, with cod, sardines, octopus, squid, clams (to name a few) readily available. Food lovers should make time to visit Mercado da Ribeira, Lisbon's largest food market. More than just a grocery market, it features an extensive food court that has become a culinary mecca. Graze your way through Lisbon's gastronomic scene on a food tasting tour.
MORE REASONS TO VISIT LISBON
A trip to Lisbon is not complete without visiting the magical Moorish São Jorge Castle, which is perched atop Lisbon's highest hill. There are plenty of other historical sites to visit, and a wide variety of wine drinking opportunities and foodie experiences to keep you occupied in Lisbon. However, if you have the time, it's well worth exploring away from the city. Jump on the train to the aristocratic hill town of Sintra, take a day trip to the beautiful World Heritage Site of Evora, or relax on the Atlantic beaches. Having tasted the wines of Lisbon and Setúbal, why not delve deeper into Portuguese wines on a full day wine tasting tour to the Alentejo wine region?
WINERIST INSIDER TIP
Take a seat at one of the many outdoor cafes on Rua Augusta in the early evening, and watch the world go by with a plate of grilled, straight-from-the-ocean sardines and a chilled glass of Vinho Verde.
Best Known Grapes
The Lisbon wine region is made up of nine Denominations of Origin: Colares, Carcavelos and Bucelas (in the south); Alenquer, Arruda, Torres Vedras, Lourinhã and Óbidos (in the centre); and Encostas d'Aire (in the north). Among the most well-known white grape varieties is Arinto which dominates in Bucelas. This sub region only produces white wines, which have a balanced acidity with floral aromas. Colares, in the southern part of the Lisbon region, is very close to the sea and its vines are planted on limestone or sandy soils. The wines here are predominantly made from the Ramisco grape variety and the whites are made from Malvasia de Colares. In the central zone of the Lisbon region the wines are predominantly made from red grape varieties, such as Castelão, Aragonez, Touriga Nacional, Tinta Miúda and Trincadeira. These are sometimes blended with Alicante Bouschet and Touriga Franca. White wines are usually made from the Arinto, Fernão Pires, Seara-Nova, and Vital grape varieties. The region of Alenquer produces some of the most prestigious DOC wines in the Lisbon region (red and white). In this area, the vines are protected from the Atlantic winds, favouring the ripening of the grapes and the production of more concentrated wines.
Read more »
Best time to visit
Lisbon is a year-round destination, with warm summers and mild winters. Average temperatures range from 11-15°C in the winter months, to 23-28°C in summer. In winter there is the possibility of slightly heavier rainfall, although the rain usually starts at the end of the day and extends into the night. Episodes of continuous rain for more than a day are rare. Infact, Lisbon has more hours of sunshine annually than anywhere else in Europe!
Read more »
How long to stay
If you can only spare a long weekend in Lisbon, you can easily tick off Lisbon's trophy sights and enjoy a tasty introduction to the culinary scene and the region's wines. If you are staying longer, you'll have time for day trips away from the city to delve deeper into the region's rich cultural heritage and fully immerse yourself in the wine and food. There will of course be more time for wine tasting opportunities, to compare the wines produced in Lisbon to the Setubal wines and, even further afield, the wines of Alentejo which can be done as a day trip from Lisbon or an overnight stay.
Read more »
How to get there
The Aeroporto de Portela, better known as Lisbon Airport, is the biggest airport in Portugal and is located just over 6km from the city centre. Aerobus operates a frequent shuttle service between the airport and the city. The Metro also links the airport with the heart of Lisbon. Once you're in Lisbon, the two wine regions are easily reachable by car in less than one hour from the city. The Lisbon Wine Region is located north of Lisbon near the coast and the Setubal Wine Region is south of Lisbon, also near the coast. If you are combining Lisbon with other Portuguese destinations, then you may want to travel by train. A journey between Porto and Lisbon takes just 3 hours. The region is also very close to Spain so you may wish to extend your wine tasting holiday in Spain. Seville is 4.5 hours' drive from Lisbon and Madrid is just over six hours drive. Or you can take a night train between Madrid and Lisbon, which is a journey time of 10 hours.
Read more »