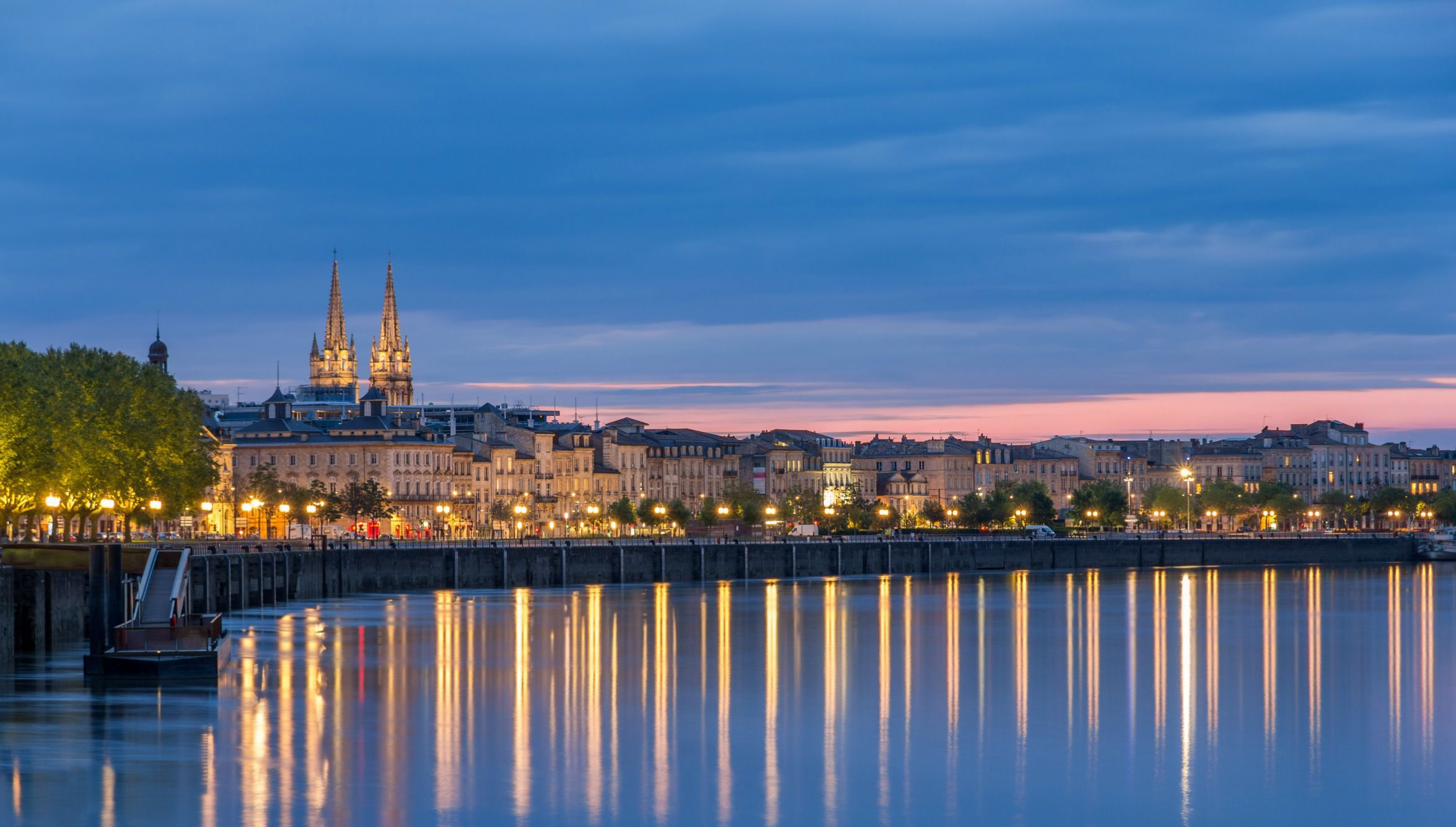 Bordeaux

wine tours and châteaux visits
Why Visit Bordeaux?
Bordeaux is a mecca for wine lovers and it's no surprise given the number of wineries, vineyards and châteaux there are to visit. If you're looking for a wine tour, then quite simply, Bordeaux is one of the most iconic wine regions in the world to visit! Wine-tasting tours and châteaux visits in Bordeaux are an absolute must for any wine lover or food fanatic. The Bordeaux way of life is a daily celebration of wine, heritage and culture thanks to the region's philosophy of "l'art de vivre", which places great gastronomy, beautiful places, and bonhomie at the heart of everyday living - very similar to our ethos at Winerist! To really uncover the essence of Bordeaux you need to experience a châteaux visit and taste the wine, guided by locals and Bordeaux winemakers themselves! Bordeaux is one of our top wine regions and one that at Winerist we have visited many times so you can be assured that we offer the very best tours that the region has to offer. Find your ideal wine tour of Bordeaux here.

WINE TASTING TOURS IN BORDEAUX
At Winerist we have the best selection of private and group tours of the Bordeaux wine region. Leaving from Bordeaux city centre or from your hotel, we offer a wide selection of wine tours and vineyard visits that will introduce you to the unique sub-regions of Bordeaux including Medoc, Saint.Emilion, Pauillac and many more. We believe the best wine tours are guided by the people that live and work there, that's why we carefully select our tours based on the local knowledge and unique perspectives of the local guides. And, we use our unique relationships with chateaux and winery owners in the region to bring you access to experiences not available elsewhere when you book private and tailor-made Bordeaux experiences with us.
Bordeaux wine travel is made easy with only short journey times from Bordeaux city to it's world-famous winemaking regions. Whether you go mad for Margaux or prefer a Sauternes, this is an incredible place to explore wine country. It helps, of course, that each Bordeaux appellation is dotted with beautiful châteaux to visit, tiny historic towns, and mile upon mile of undulating vineyards to tour.
The appellations here are described as Left Bank or Right Bank, depending on which side of the river they inhabit. From the legendary region of Medoc in the north, to the sweet wine producing Sauternes in the south; and the renowned estates of Saint Emilion and Pomerol in the east, some of the most sought-after wines in the world are produced here. How could this region not make for the best wine tasting tour?

FOOD TASTING EXPERIENCES IN BORDEAUX
Whilst enjoying the region's wines we also recommend taking a food tasting tour to explore Bordeaux's incredible cuisine. Bordeaux is a gastronomic paradise, with fantastic restaurants representing every cuisine imaginable. Many of the best Bordeaux restaurants are, of course, focused on the rich culinary heritage of both France and Bordeaux, with fresh, seasonal local produce taking centre stage. If you're a fan of oysters, don't leave without visiting the Cap Ferret Peninsula, which is dotted with simple oyster farming villages where on a Winerist Arachon Bay tour you can taste the freshest oysters imaginable. Bordeaux is one of the best destinations for taking a mouth-watering gourmet food tour.

MORE REASONS TO VISIT BORDEAUX
Not only is Bordeaux a Mecca for wine and food lovers; the city is alive with fascinating history and a vibrant cultural scene. Formerly an important centre for shipping and trade, Bordeaux is now a cosmopolitan destination where history sits shoulder-to-shoulder with modernity. Get lost in the ancient streets of Saint Emilion; stroll through trendy Saint-Pierre and visit the cutting-edge wine museum Cite du Vin; stop for lunch in gastronomic Saint-Michel and end your day with a glass of the region's finest in one of the many wine bars of Chartrons. Winerist's vast array of private wine and city tours and small group tours will help you explore this amazing city.
WINERIST INSIDER TIP
Our favourite way of exploring the vineyards of Bordeaux is by bicycle. It's fun, eco-friendly & can be enjoyed at your own pace. Choose an e-bike wine tasting tour from Bordeaux for minimal effort!
Best Known Grapes
Bordeaux is of course famous for its iconic red wines and just as iconic are the grape varieties which go into them! As with the rest of France, there are regulations around grape growing in order to ensure quality. In 2019, it was announced that 6 new grape varieties, including Touriga Nacional from Portugal and Albariño from Spain, would be allowed in Bordeaux, in response to the ongoing challenges presented to the region by climate change. All the new grapes were chosen for their ability to resist disease and withstand high temperatures. Despite the number of varieties available, Bordeaux will always be best known as the home of Cabernet Sauvignon and Merlot, and when blended together these two grapes are capable of wonderful things. Merlot, rather impressively, accounts for approximately 65% of all grapevines in Bordeaux! White Bordeaux may not be as revered as its red counterparts, but there are nevertheless some very good whites made in the region from grapes such as Sauvignon Blanc and Sémillion. As well as interesting dry whites, these two grapes are also responsible for Sauternes, the legendary sweet dessert wine. Take a wine tour and learn all about these Bordeaux grape varieties!
Read more »
Best time to visit
The best times of year to visit Bordeaux for a wine tour are the spring months of April, May and June, and the autumn months of September and October. The summer months of July and August are typically hot, with daytime temperatures regularly hitting 30°C. Although Bordeaux is relatively quiet at this time of year as the French take their holidays and flock to the beach. Winter temperatures are always mild, although it tends to be rainy, so don't forget your umbrella! Some wineries and restaurants close during January and February so be sure to check before booking. June is an excellent time of year to visit the Bordeaux vineyards as the new buds burst forth. September and October are also great months to visit the Bordeaux wine region to experience the excitement and atmosphere of harvest time in full swing. If you plan to visit Bordeaux during harvest season, please be aware that this is the busiest time of year for wineries, so be sure to book your tours and winery visits well in advance!
Read more »
How long to stay
Wondering how many days you need in Bordeaux? A long-weekend or 3 to 4 days will give you plenty of time to take in both the delights of the city and the wonders of the wider wine regions. However, wine connoisseurs who are looking for a complete exploration of Bordeaux wines and full immersion into the culture and heritage of this iconic wine destination, will find it very easy to spend a week or more touring the appellations of the Left and Right Bank.
Read more »
How to get there
The easiest way to get to Bordeaux for a wine tour is by plane. Bordeaux's international airport (Bordeaux-Merignac Airport) is located just 9km from the city centre. There is a regular shuttle service connecting the airport to the city, or you can take a taxi. Alternatively, travel by train. The efficient SNCF rail network connects Bordeaux with the rest of France. The TGV runs directly from Paris, Lille and Biarritz to Bordeaux. From Paris, there are several daily train departures and the journey time is just over 3 hours.
Read more »